5 rooms (4 bedrooms) - Residence LES BALCONS ETOILÉS - ref BEB25
CHAMPAGNY EN VANOISE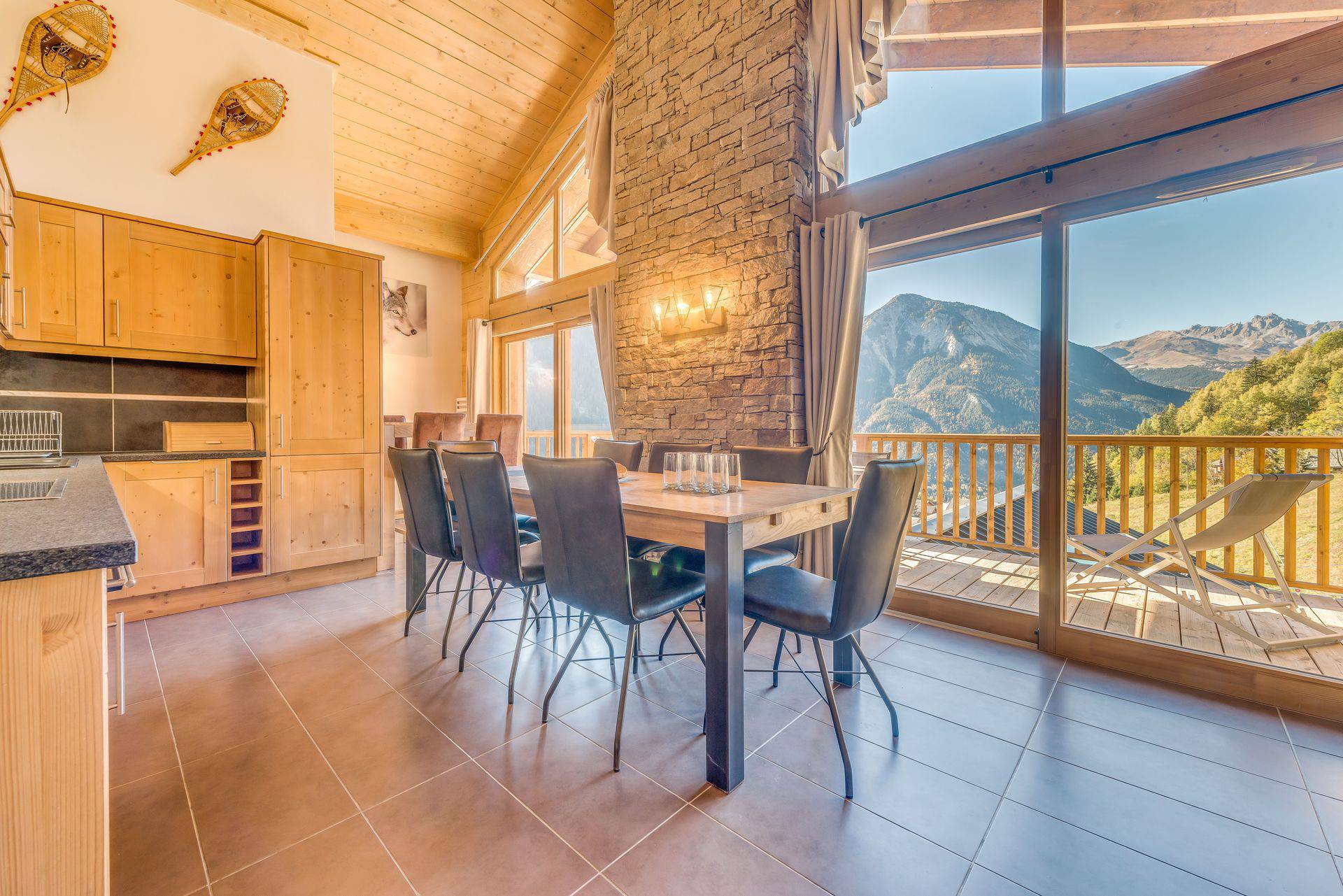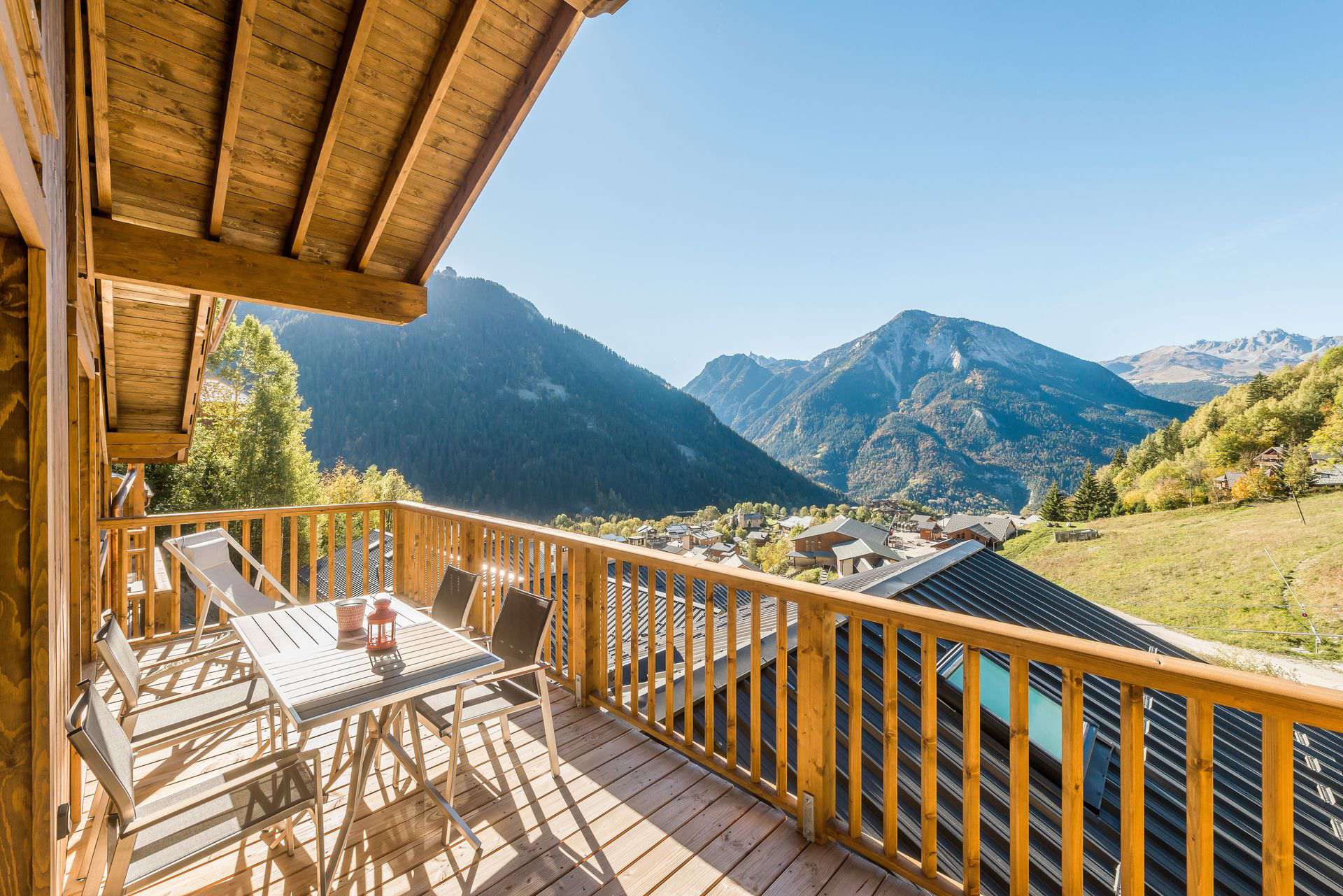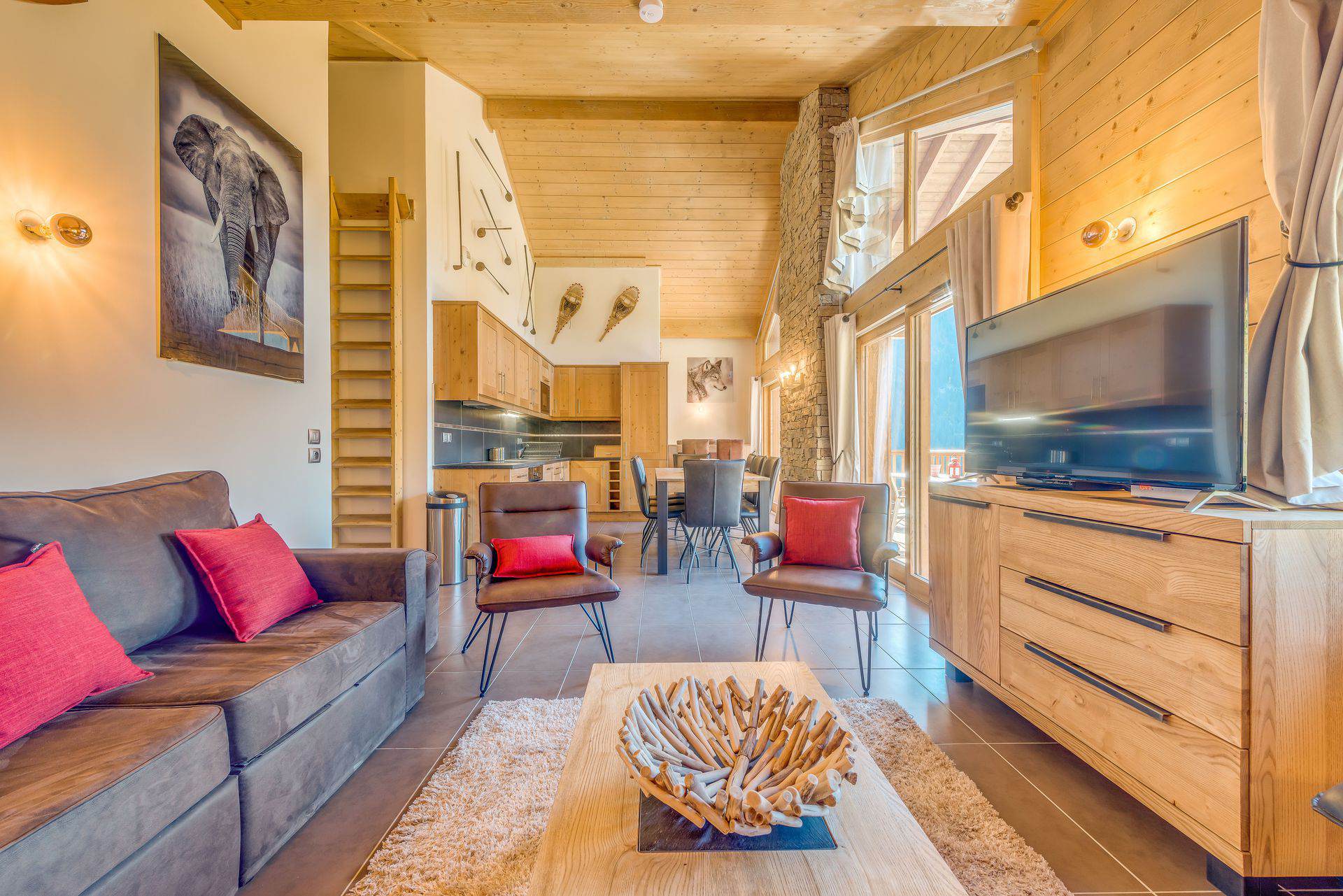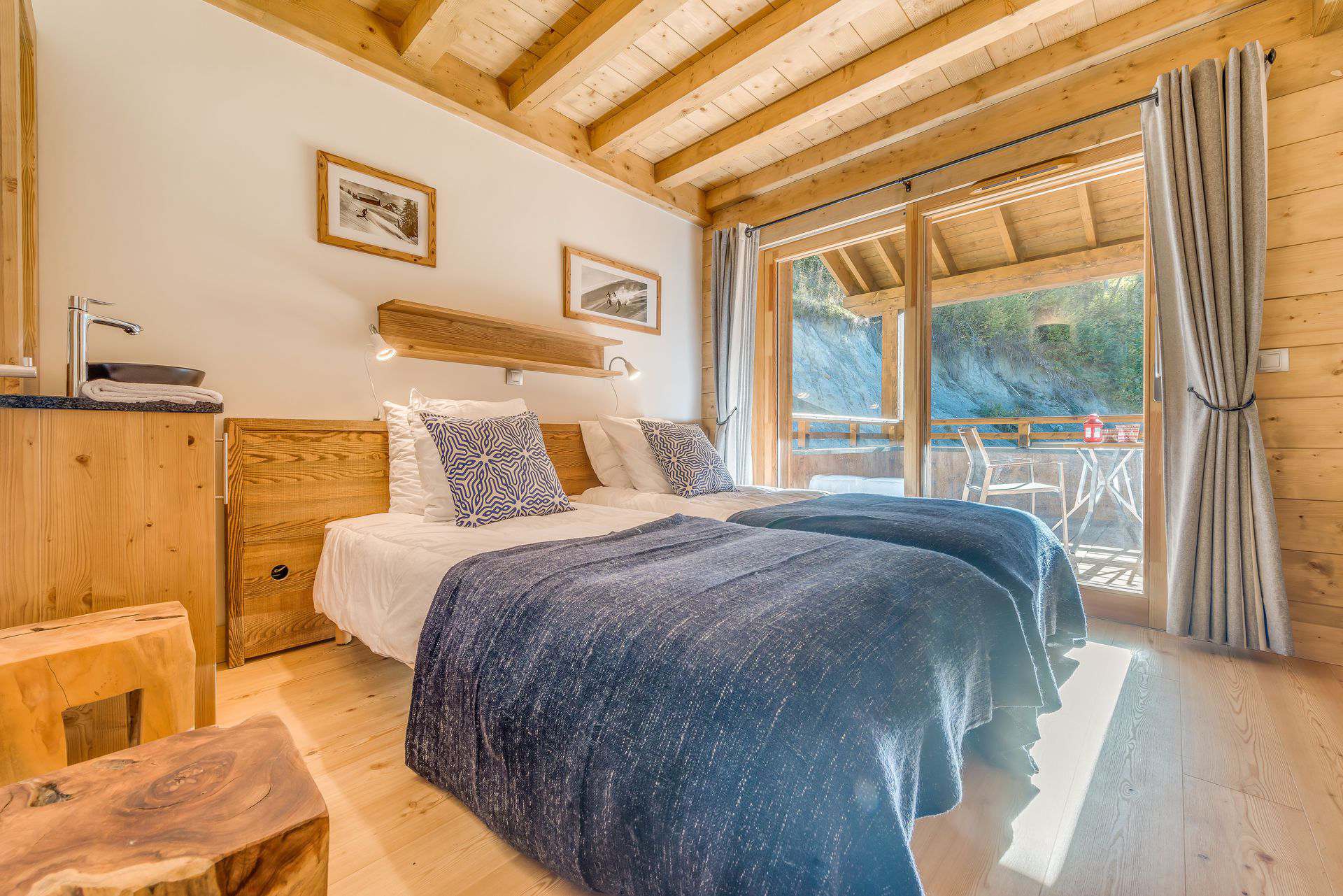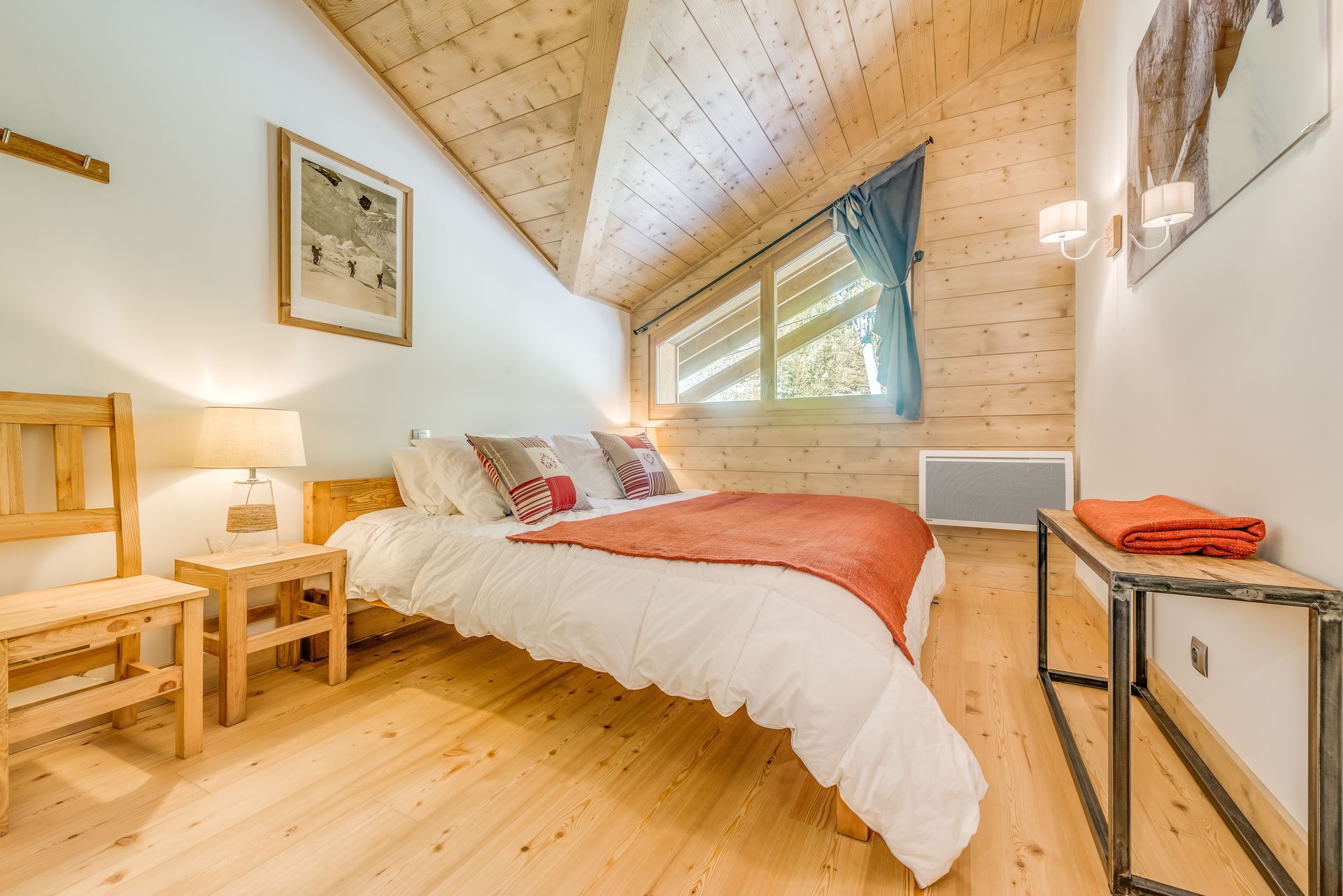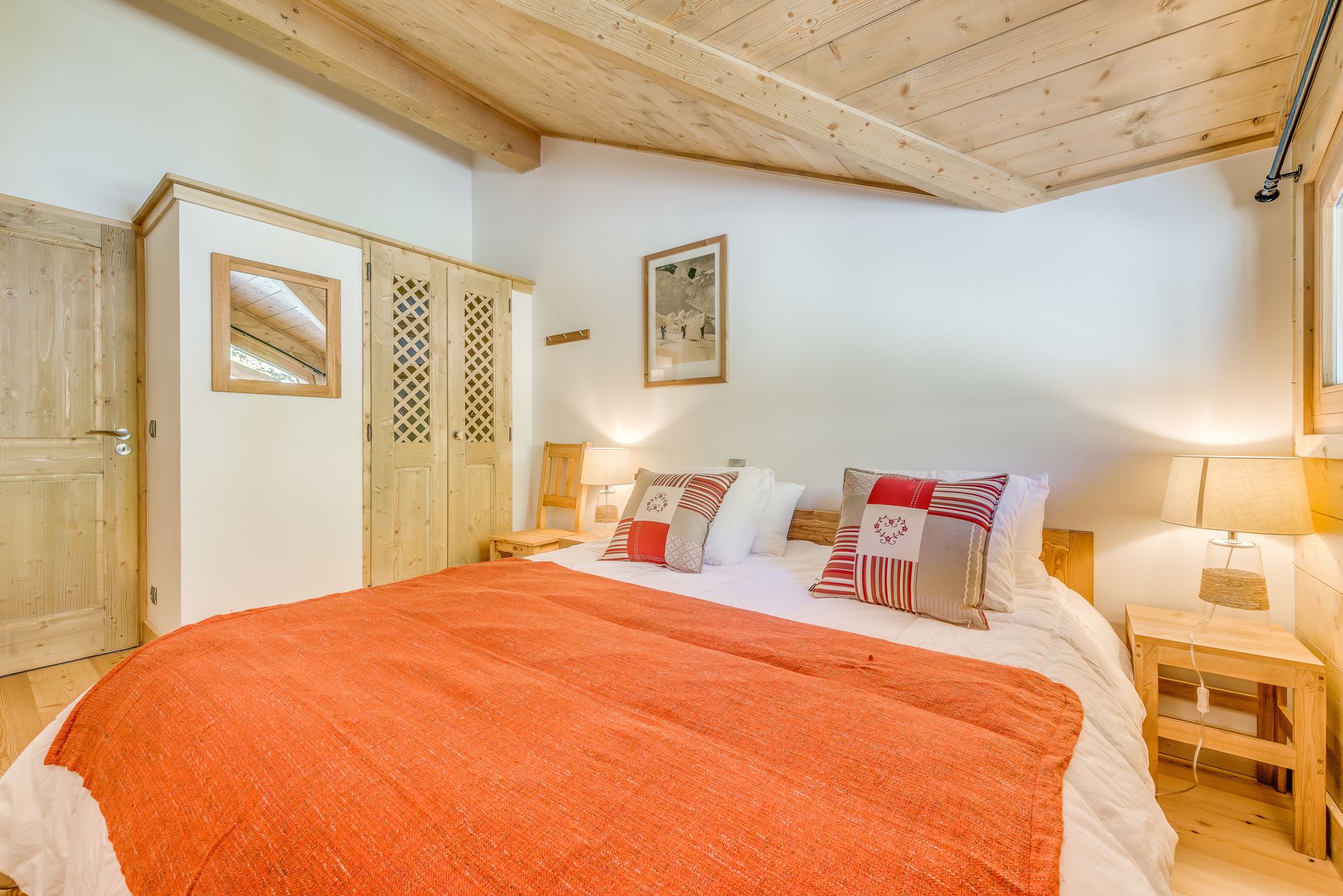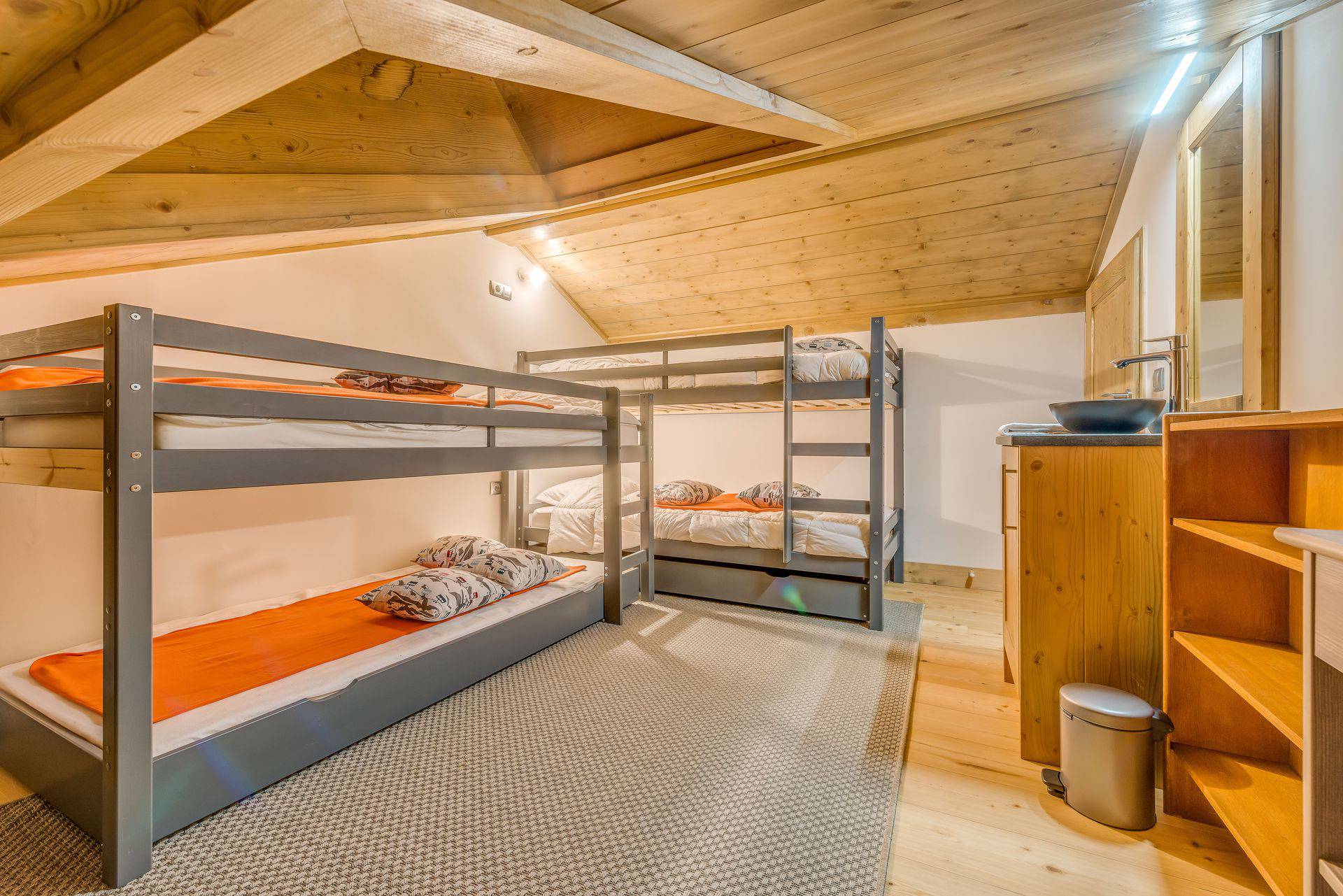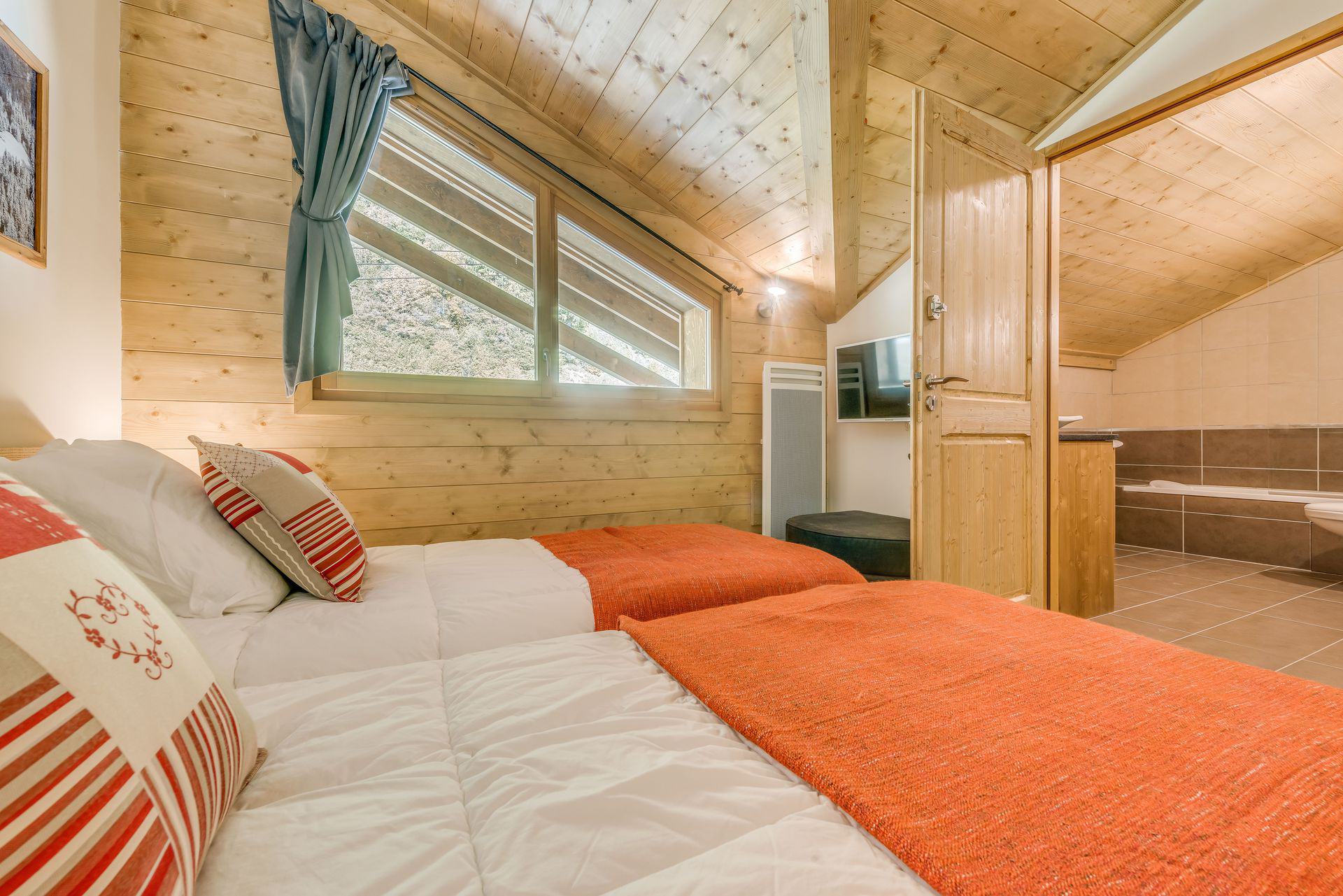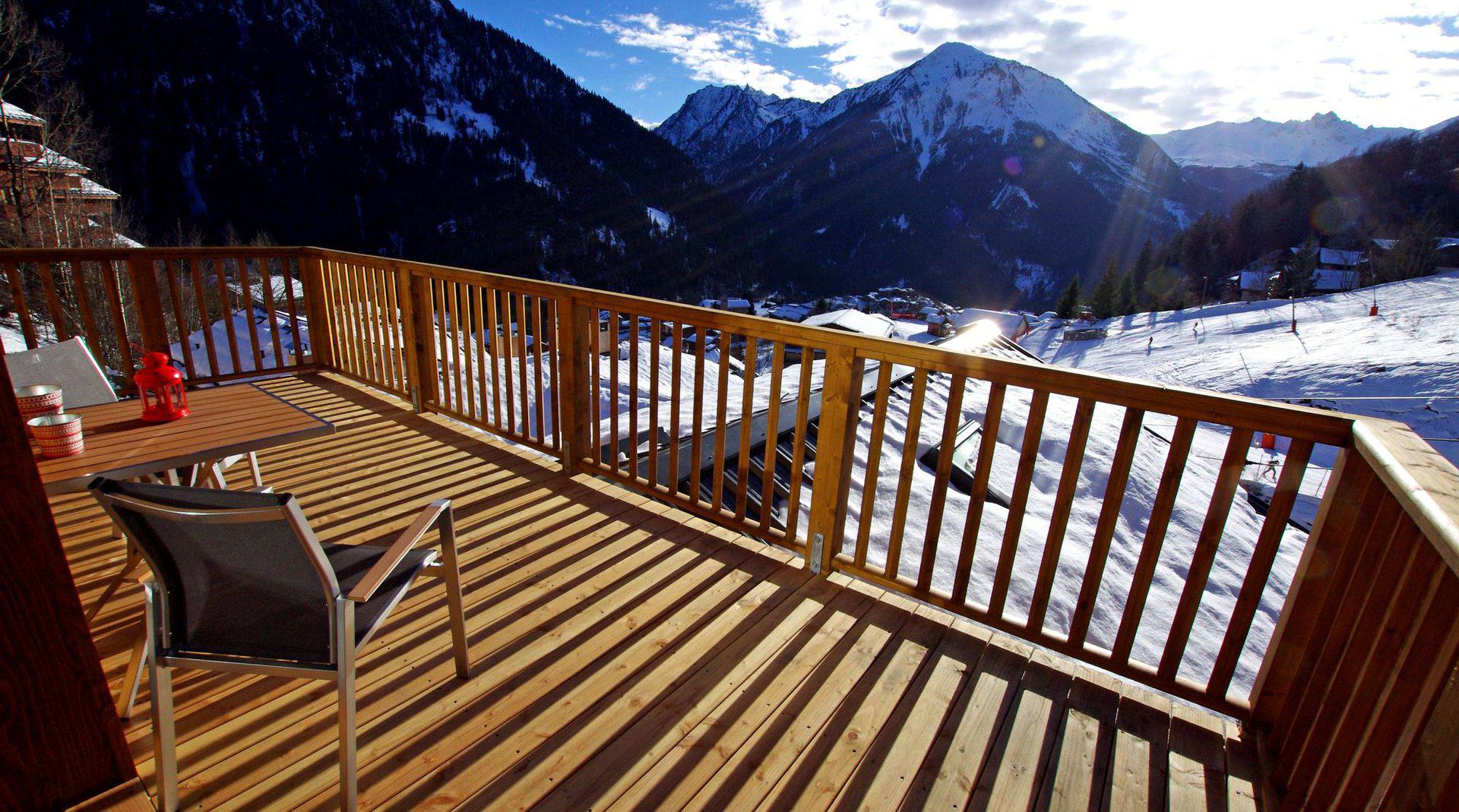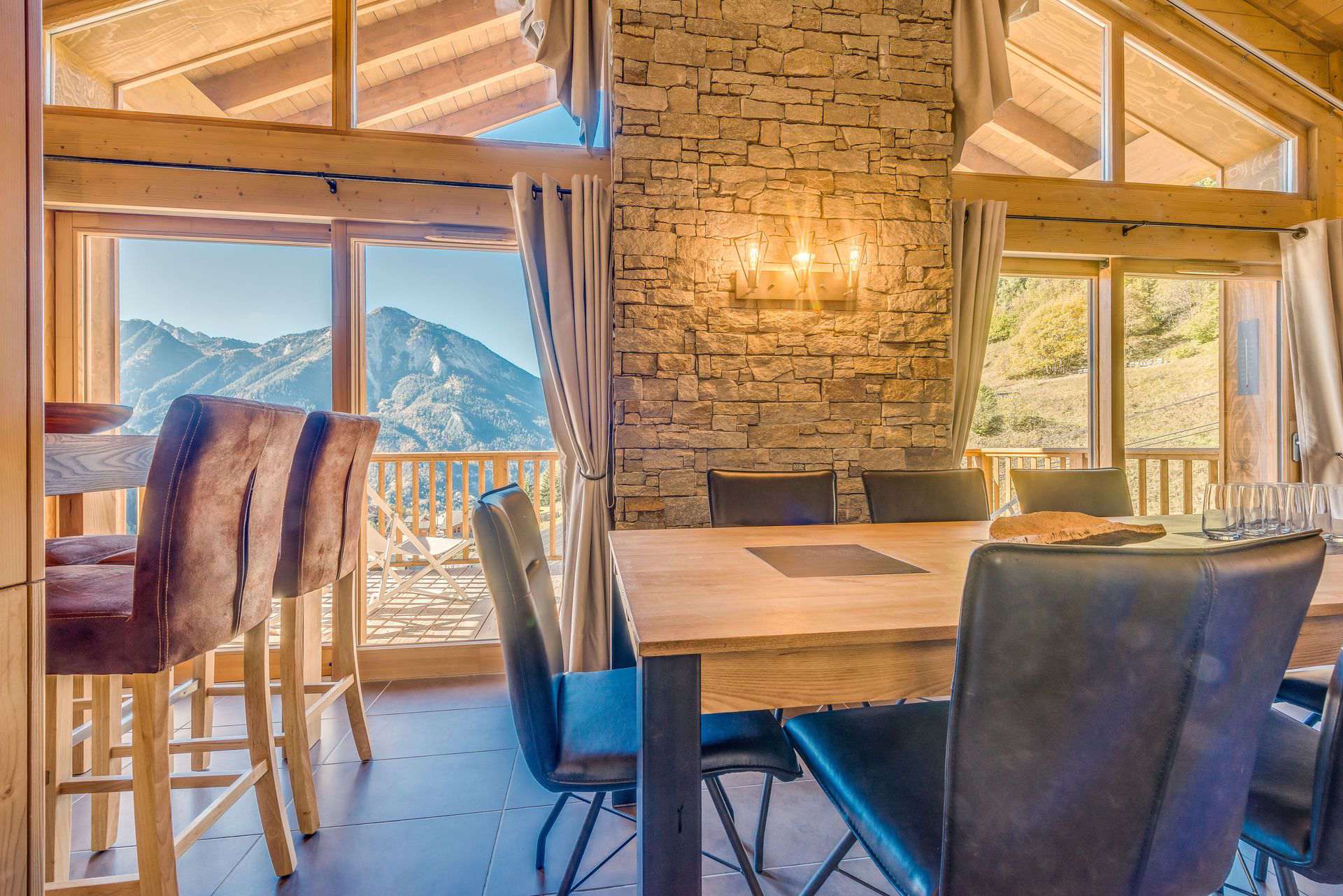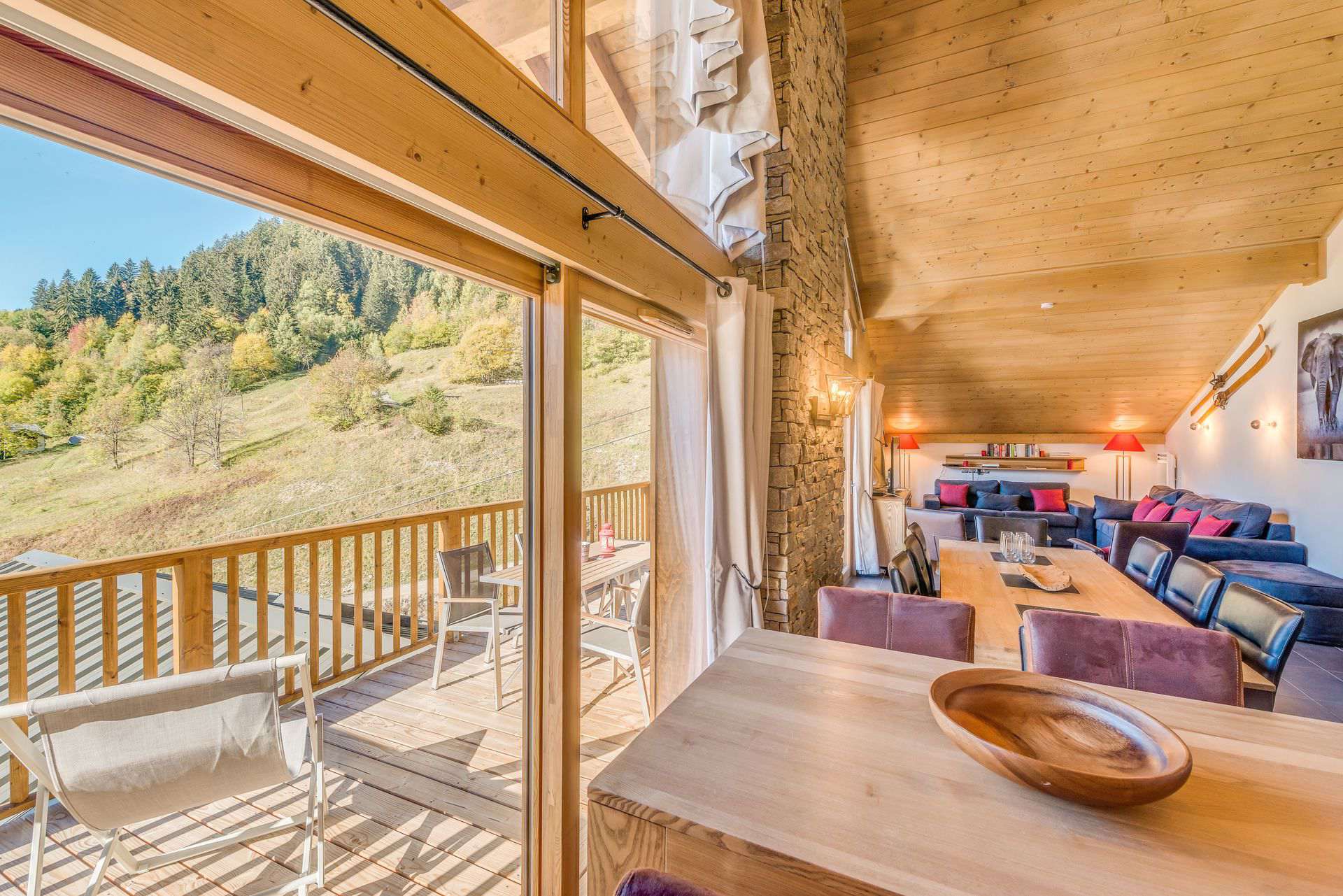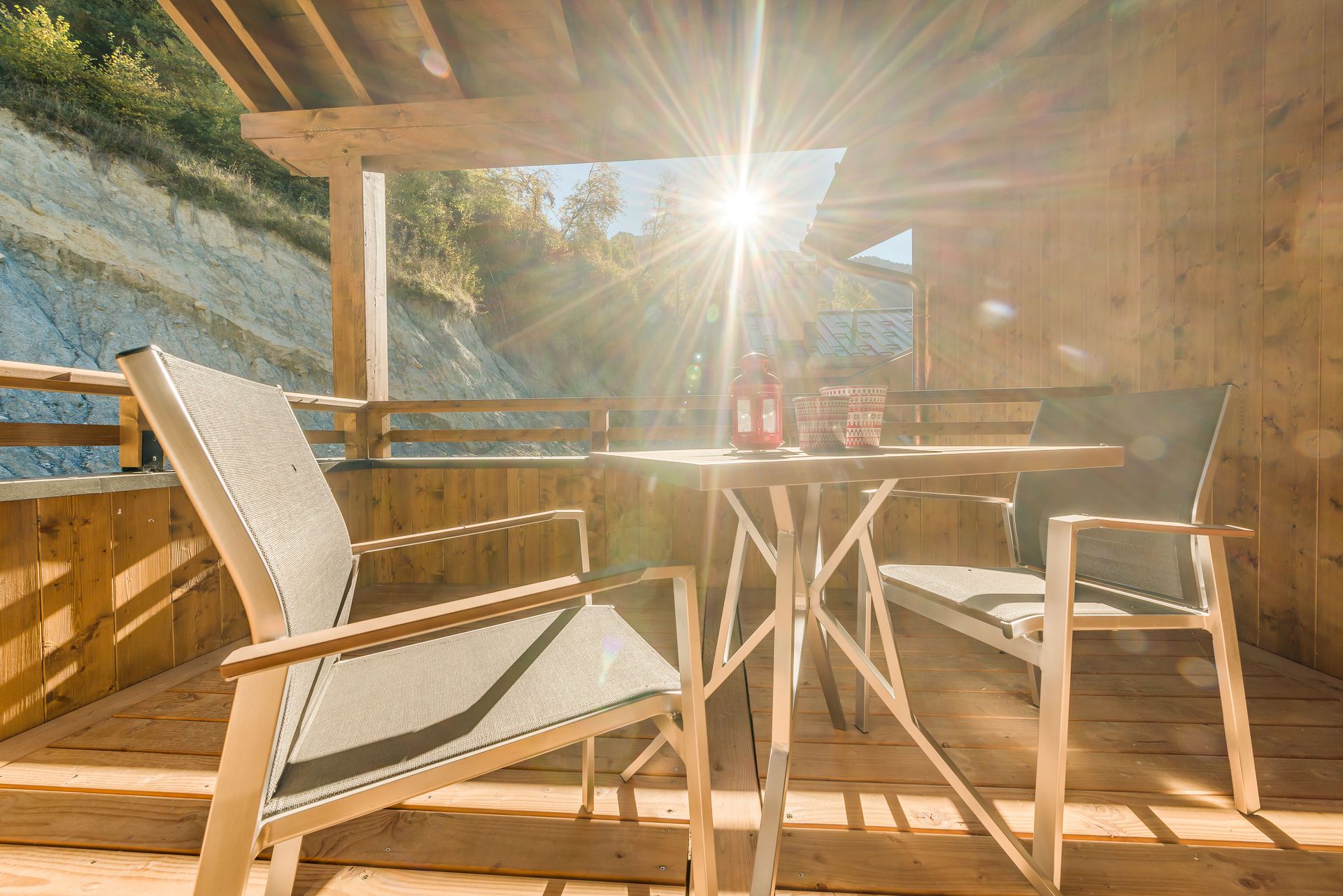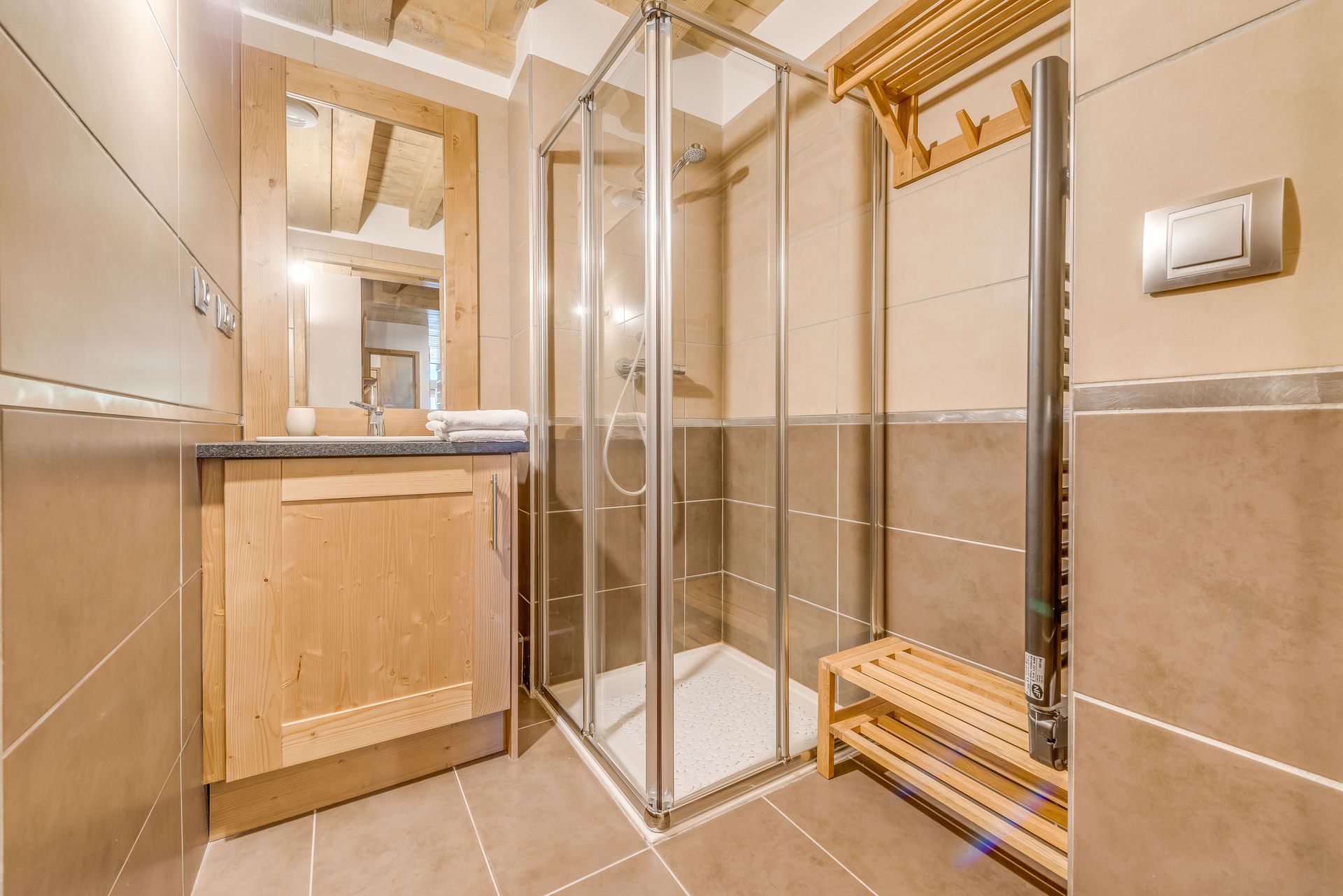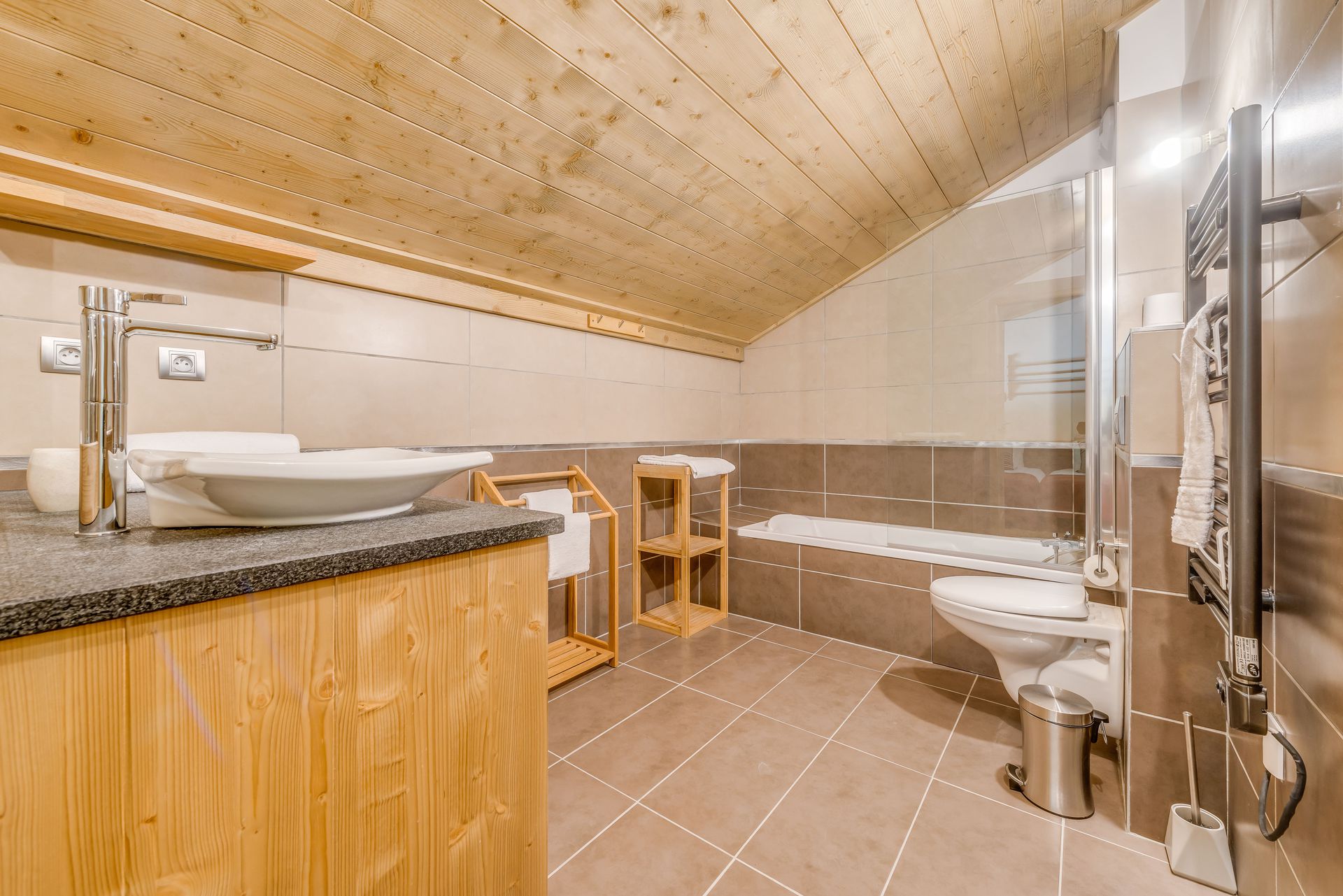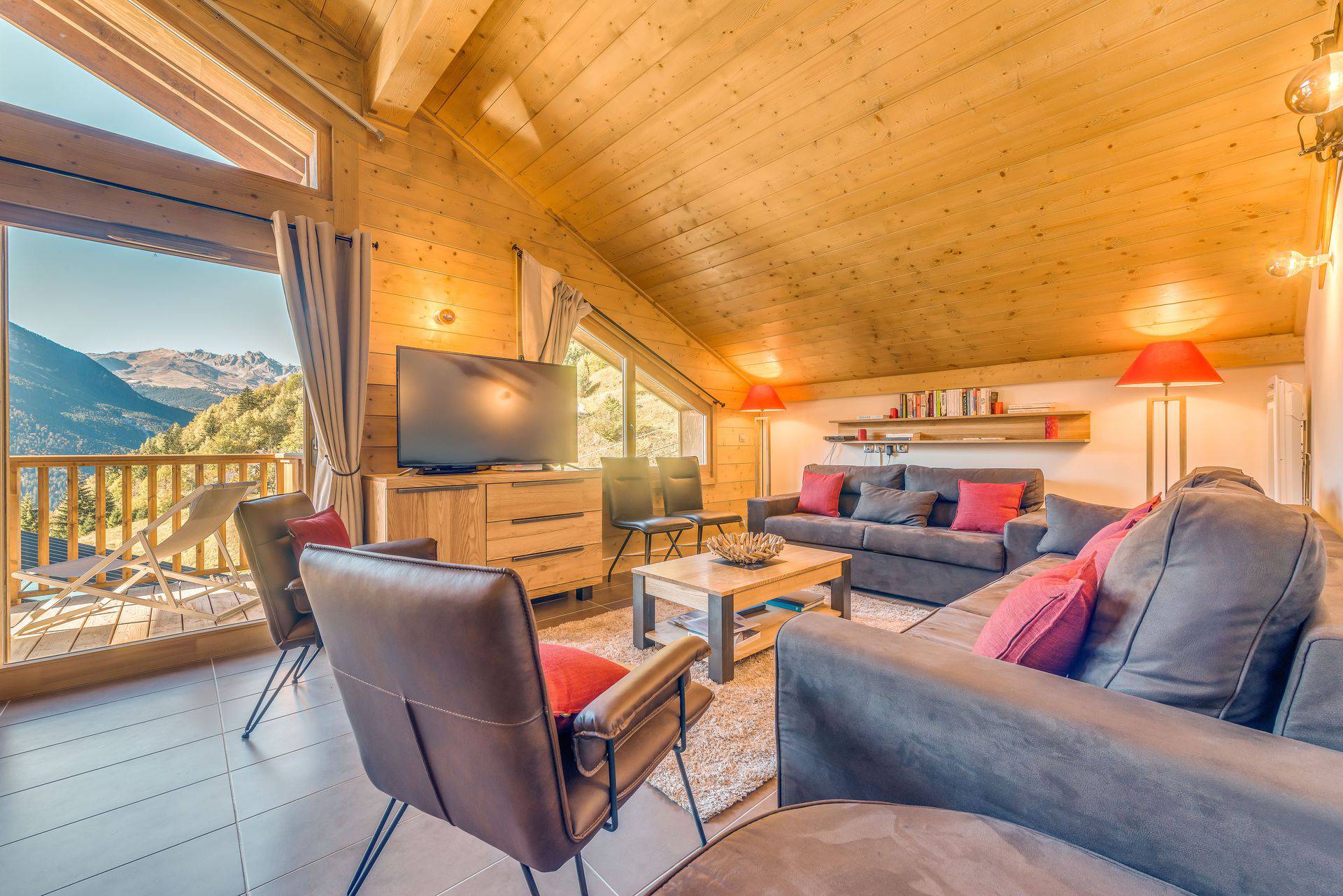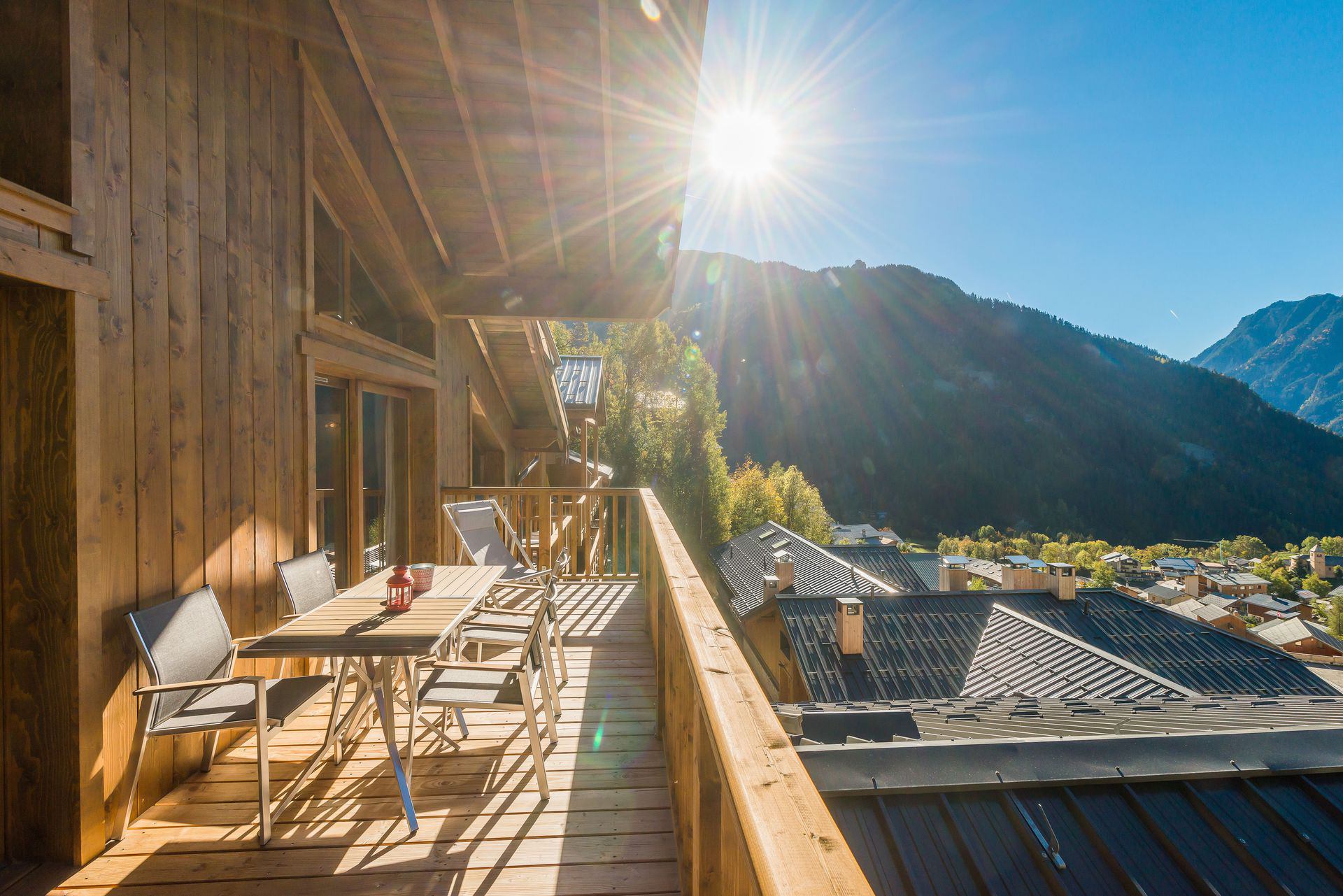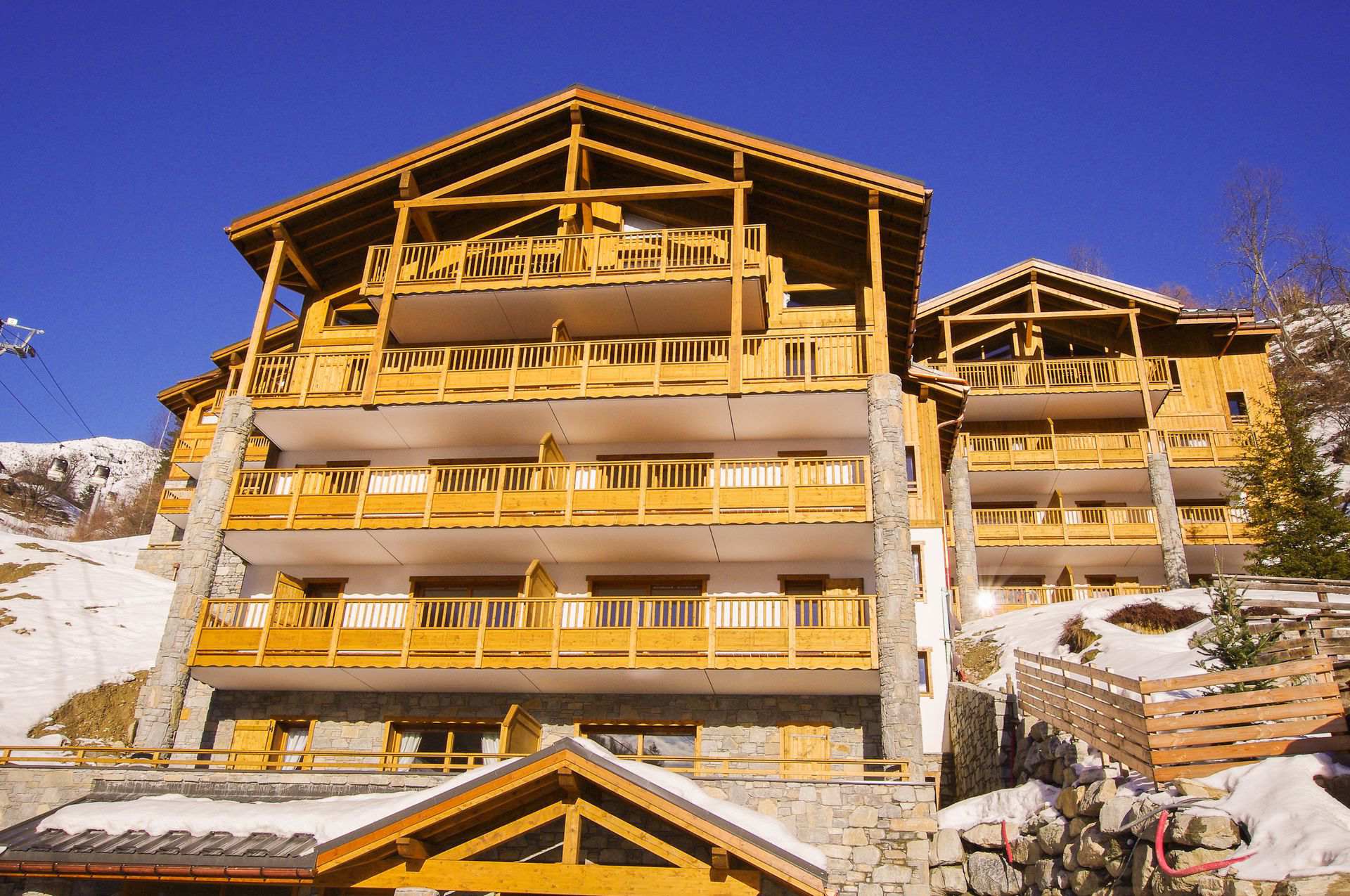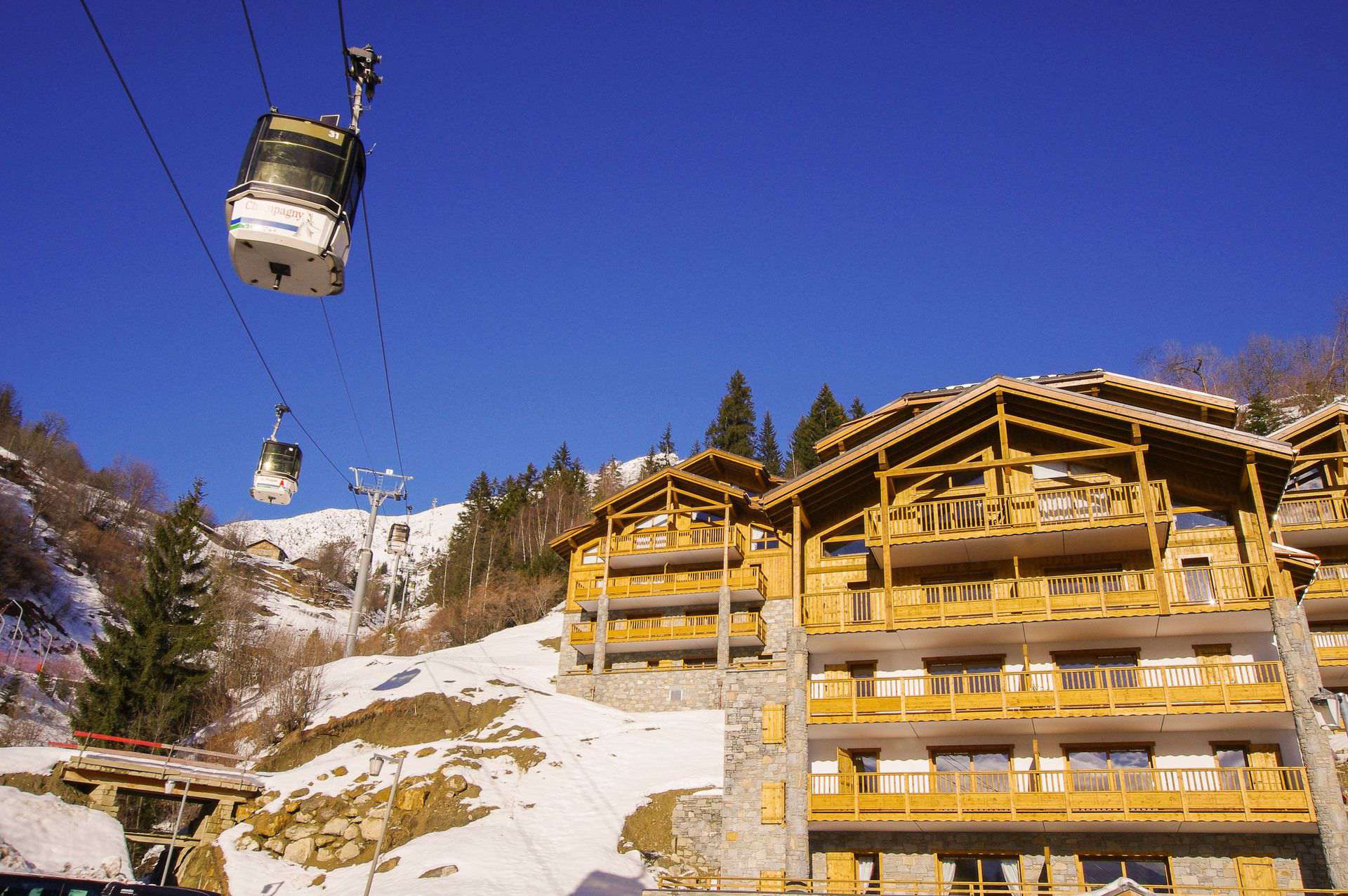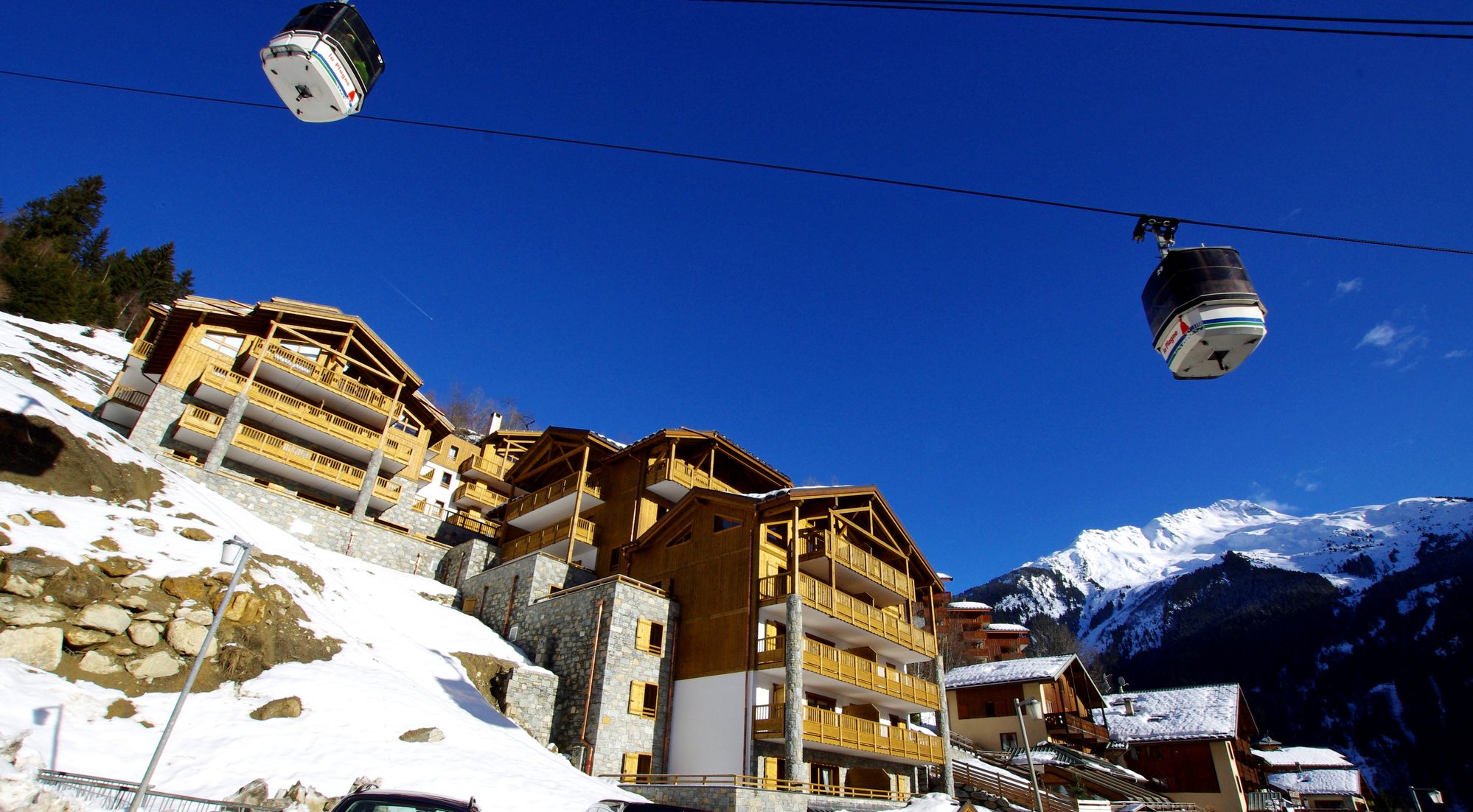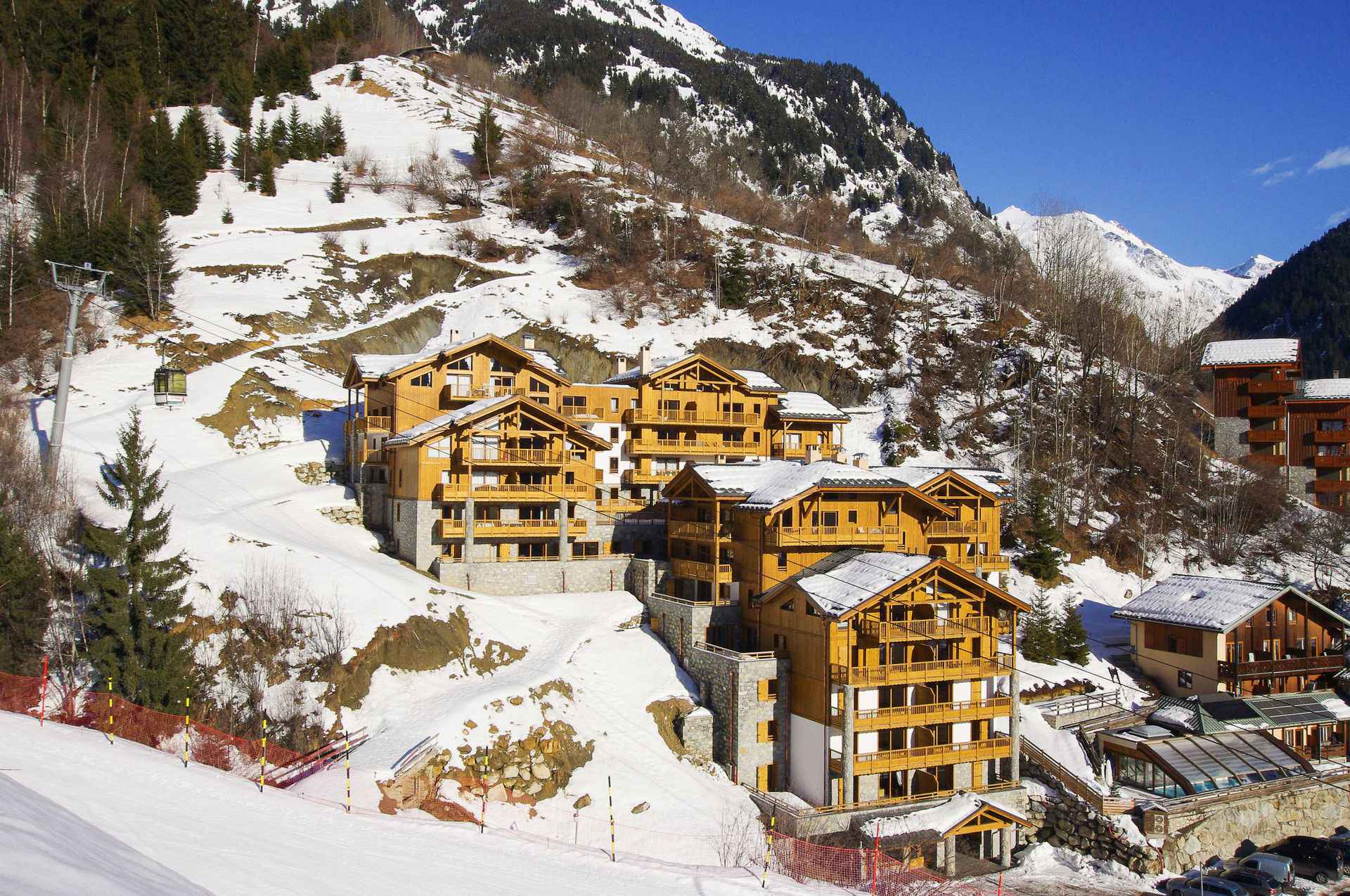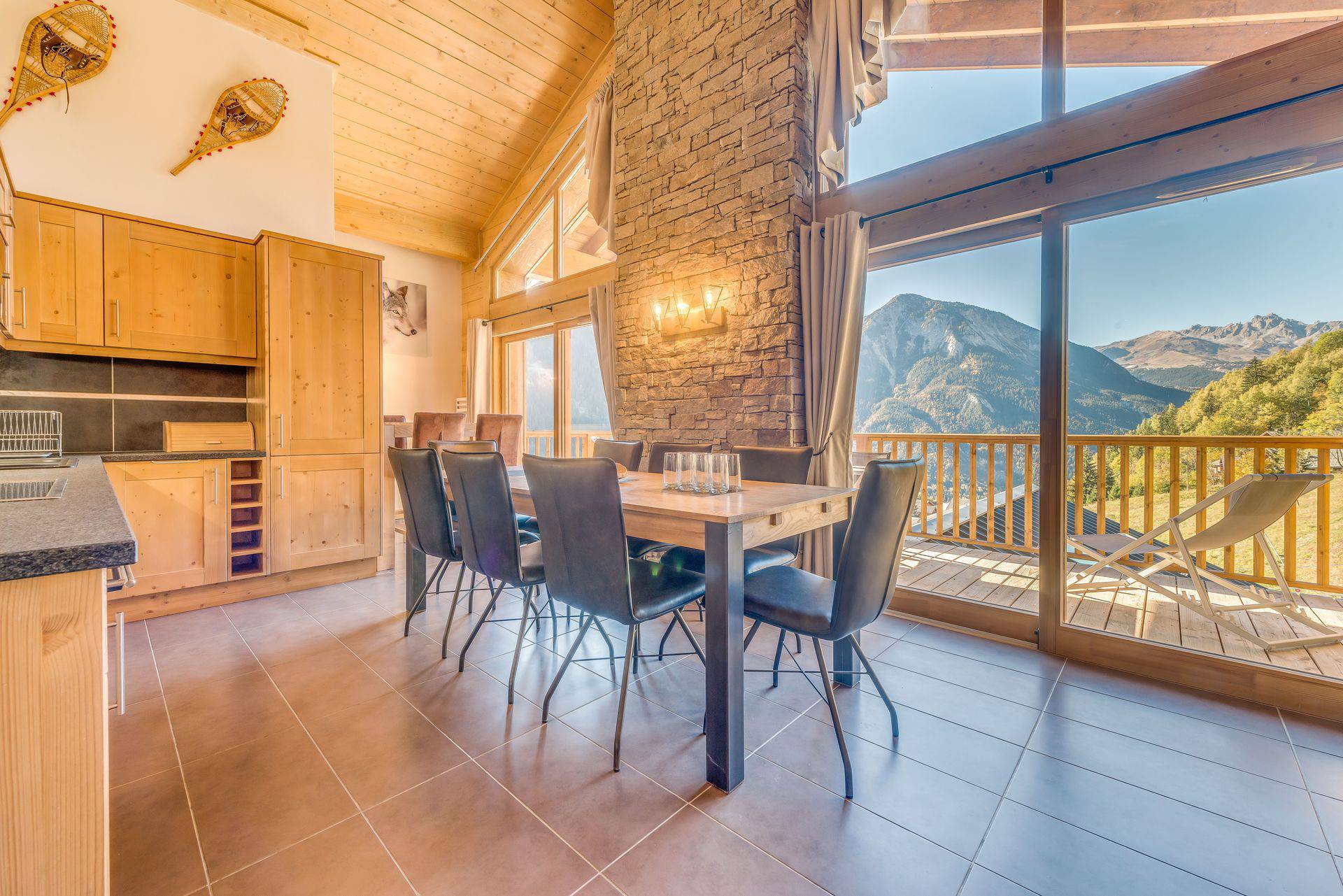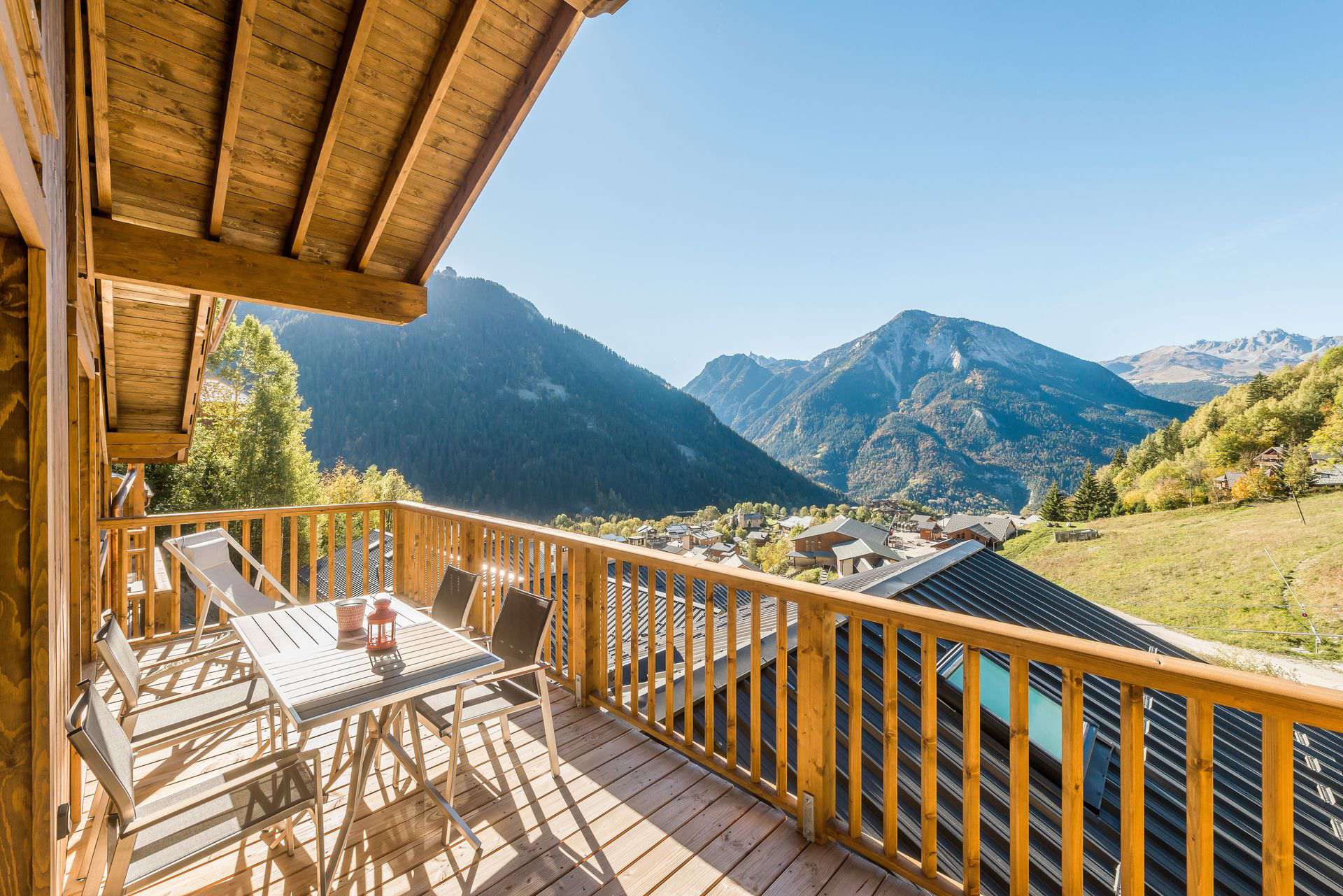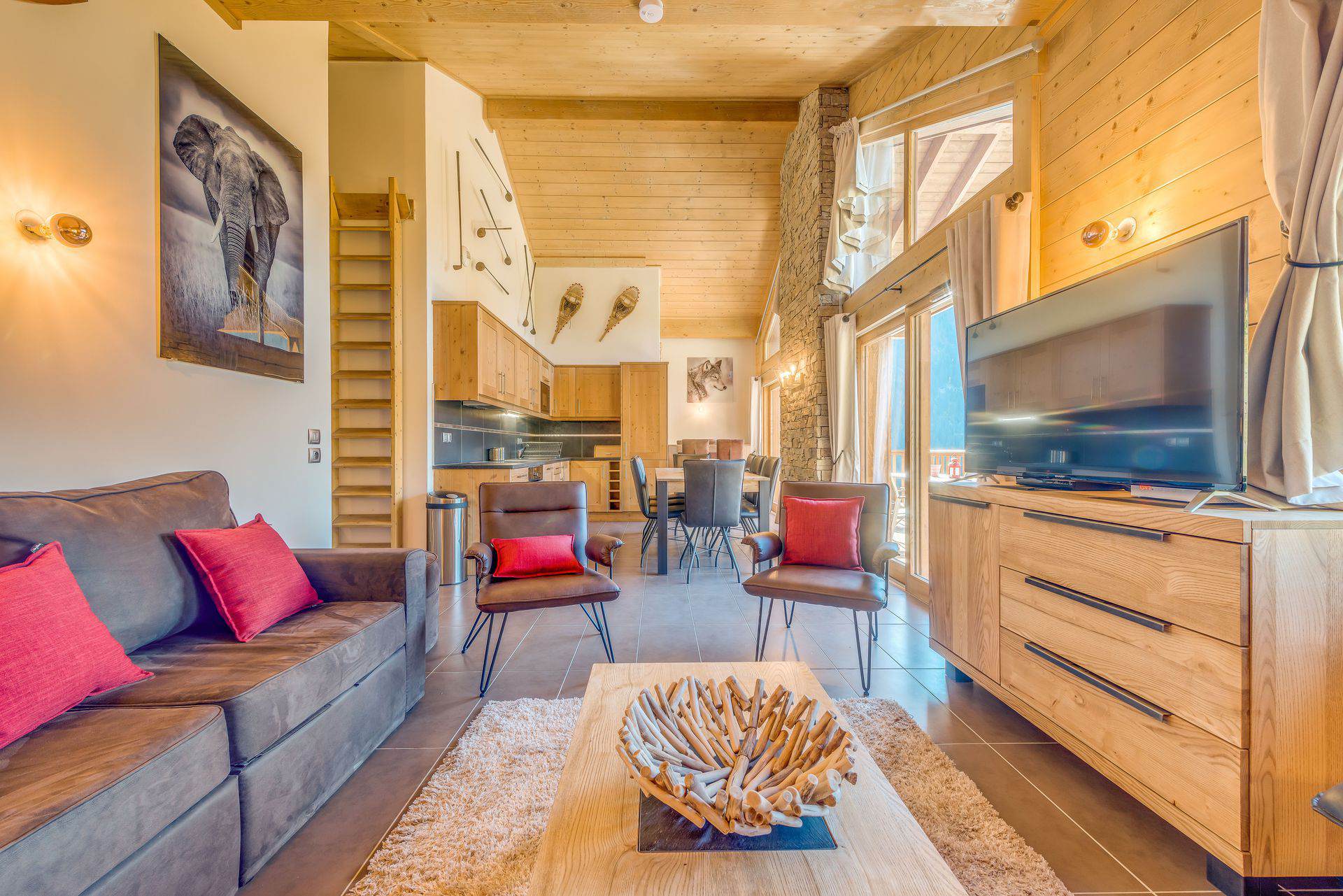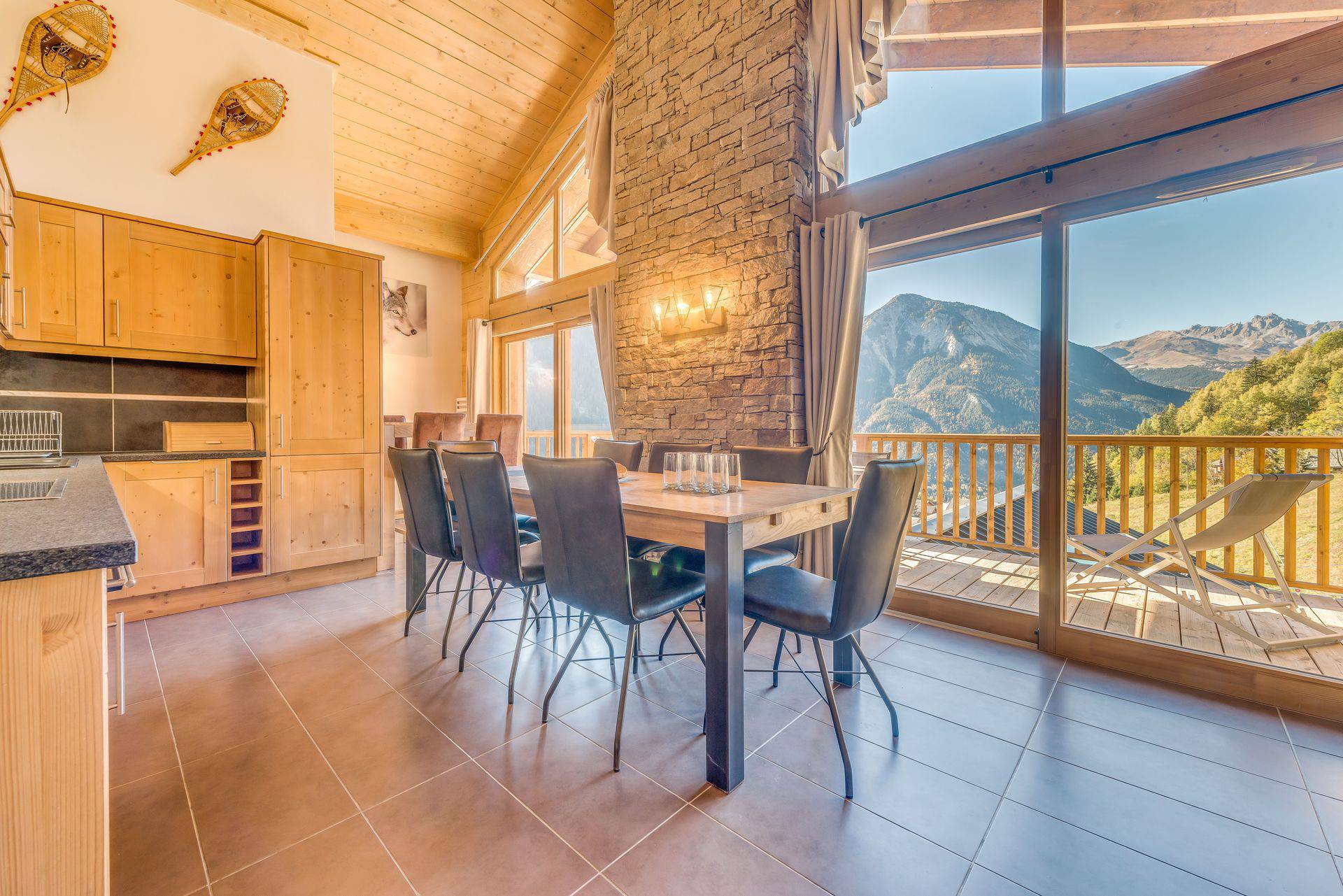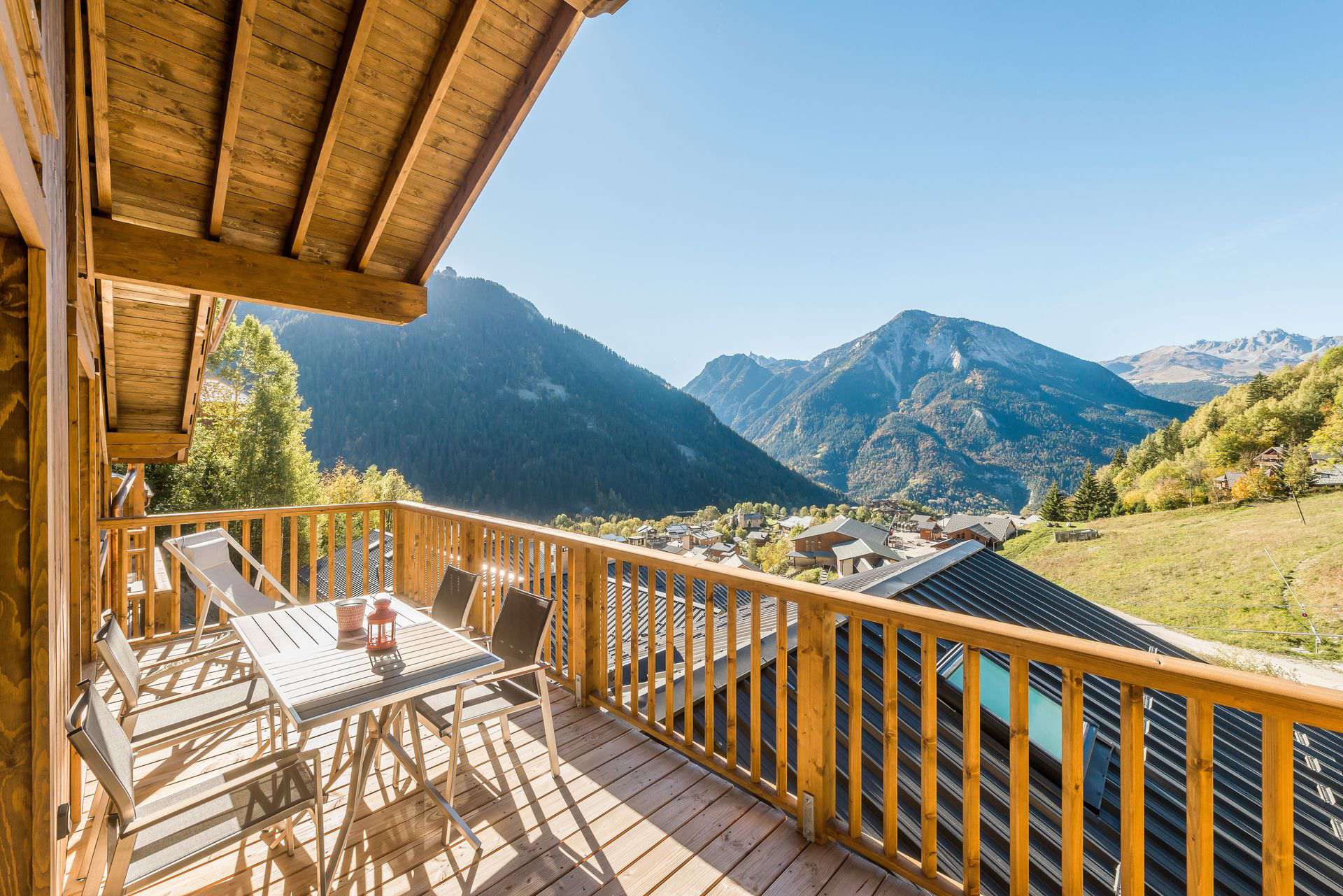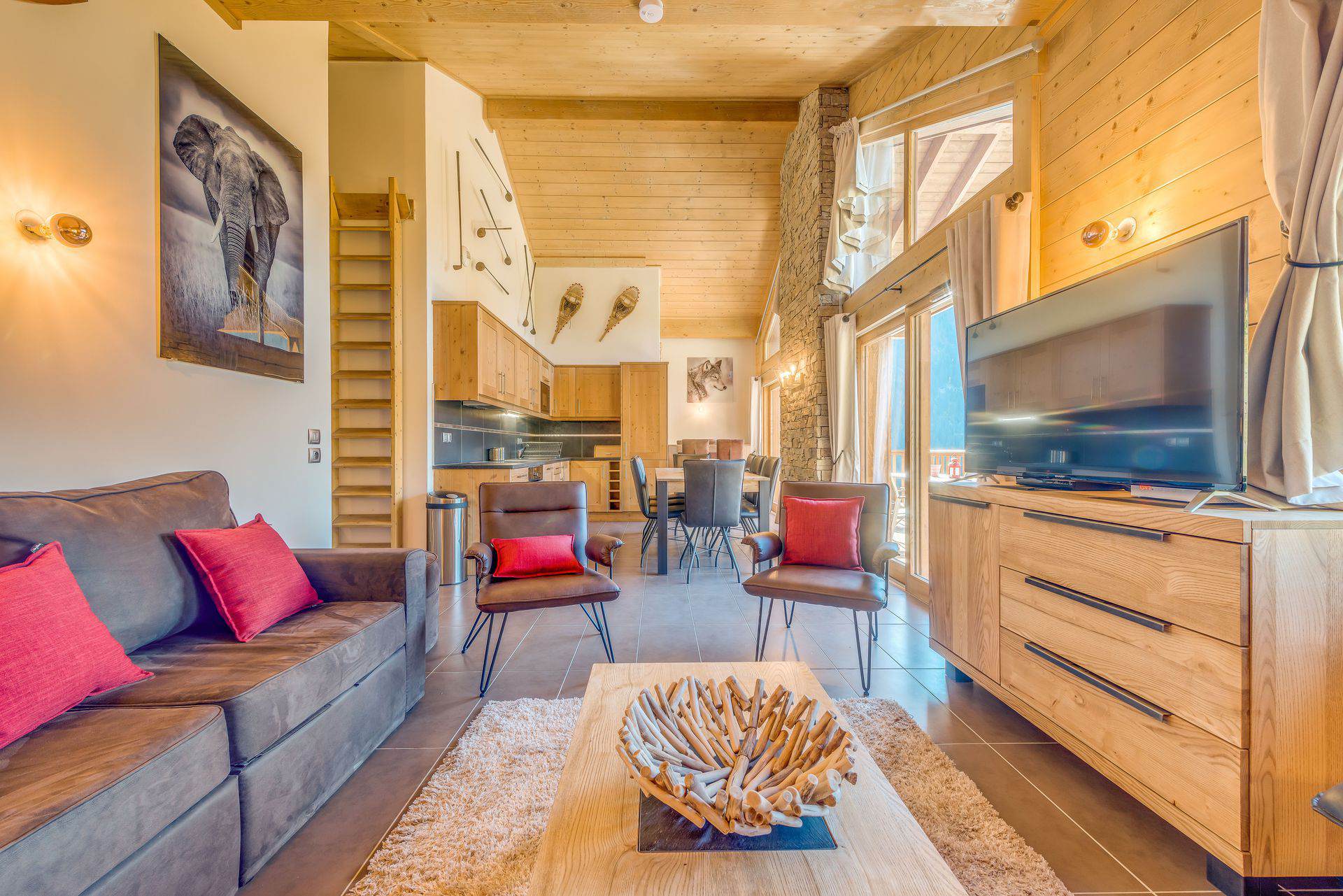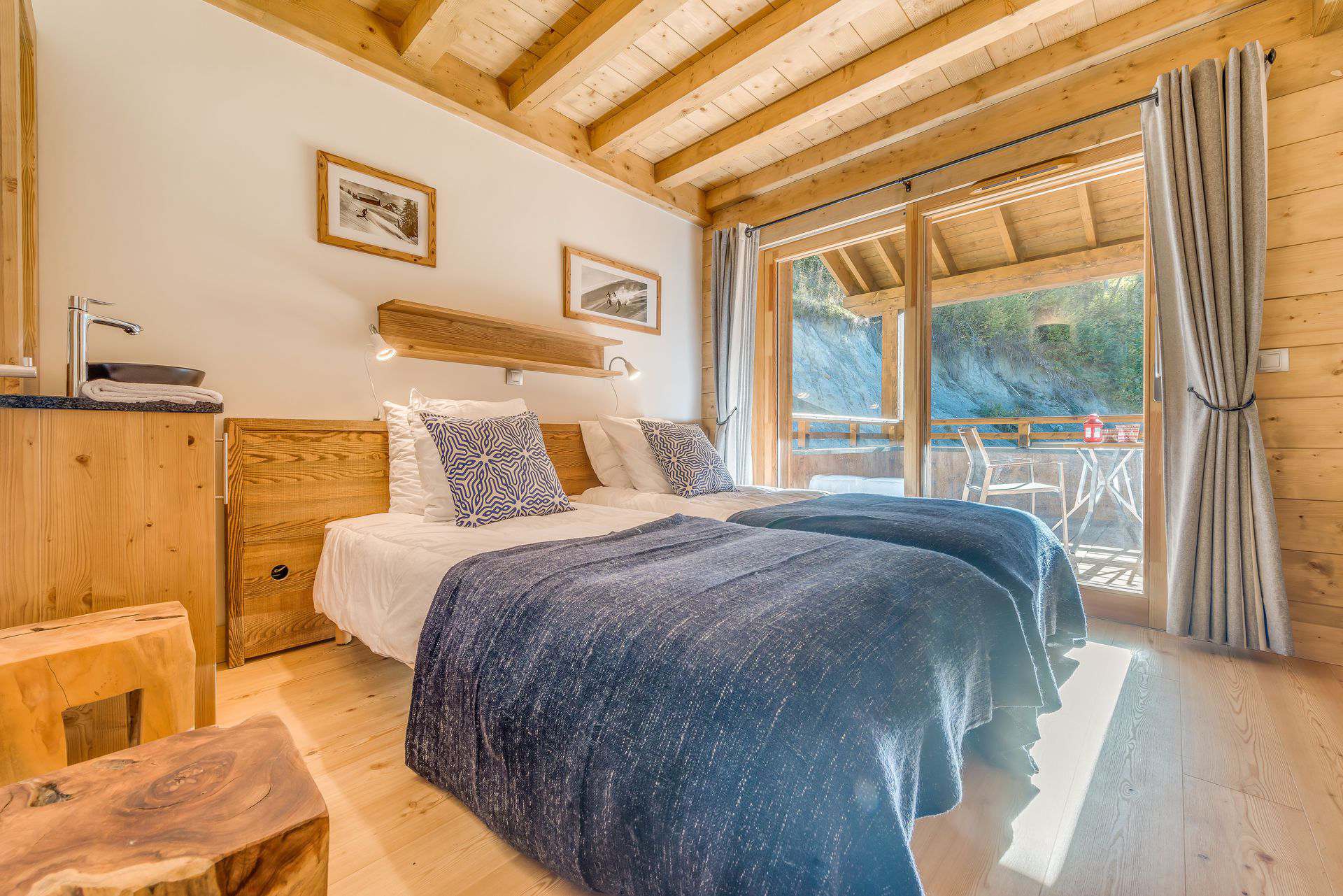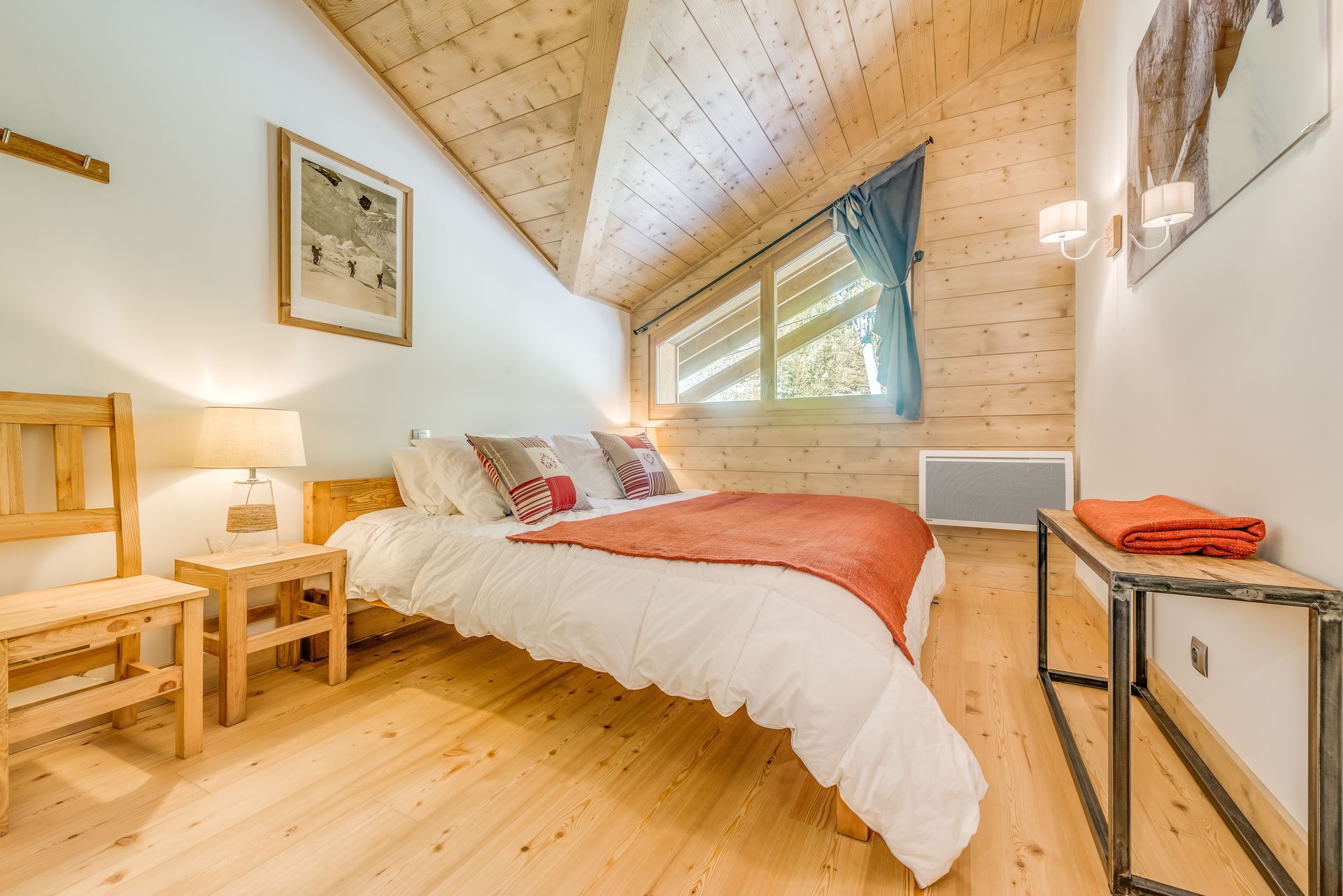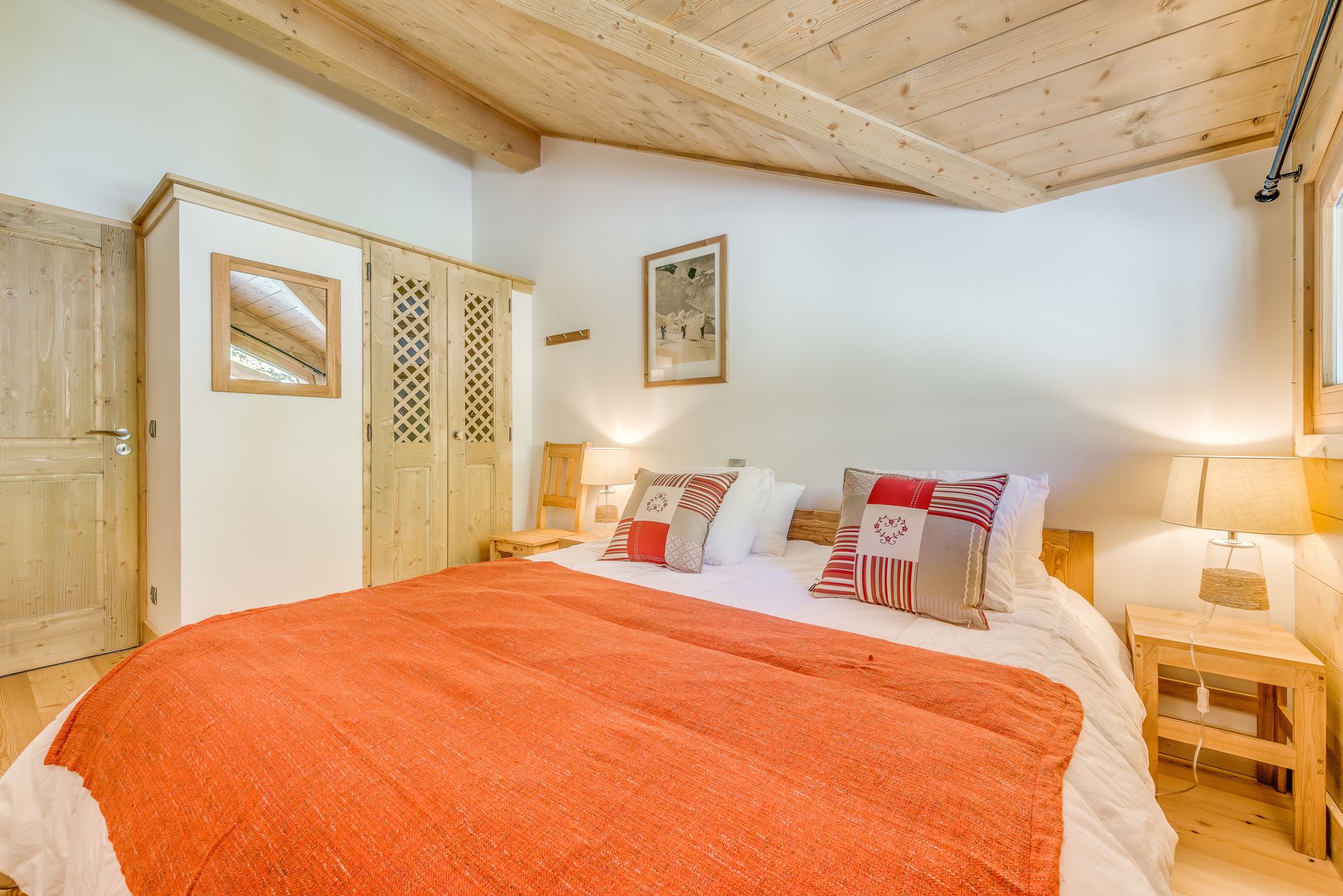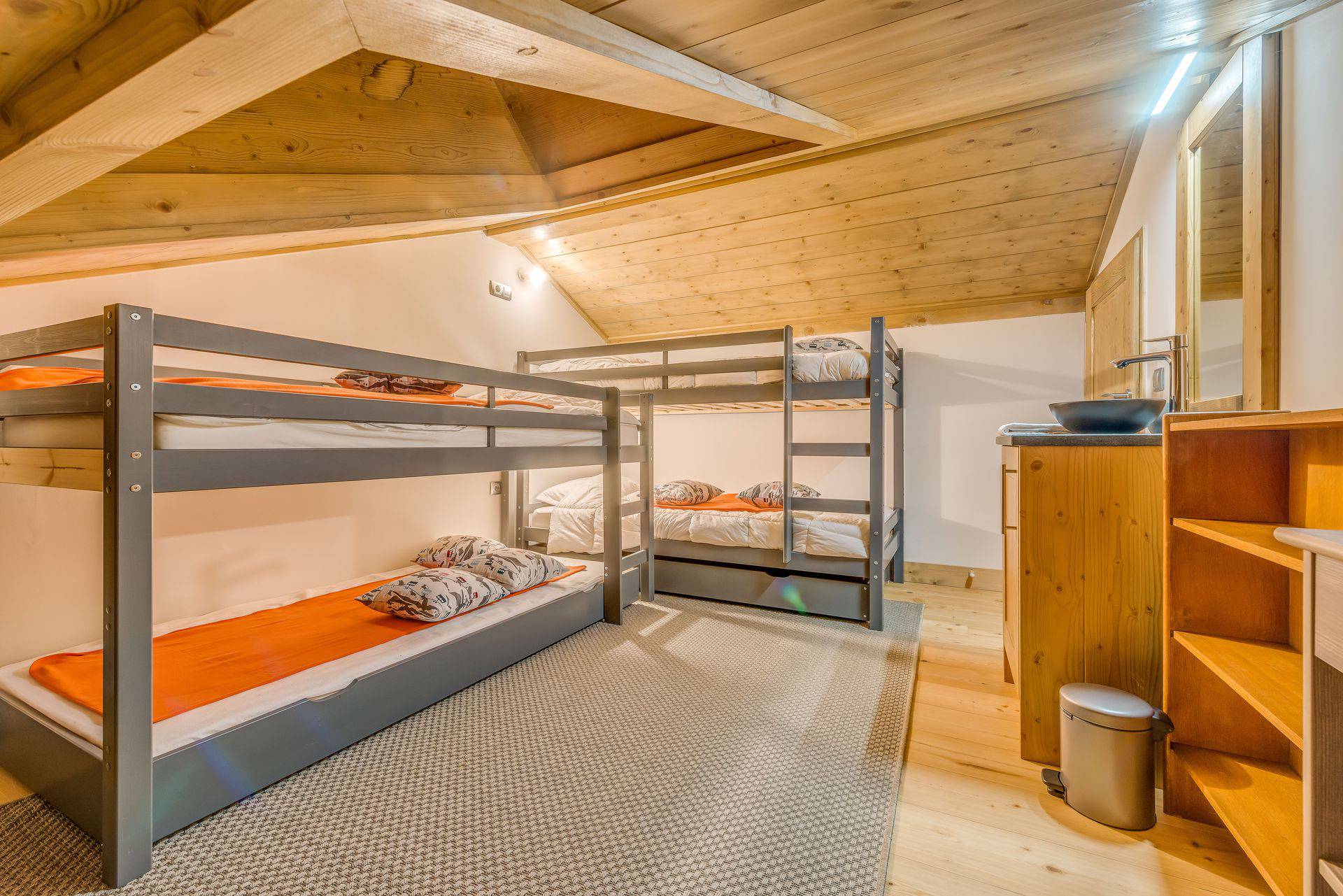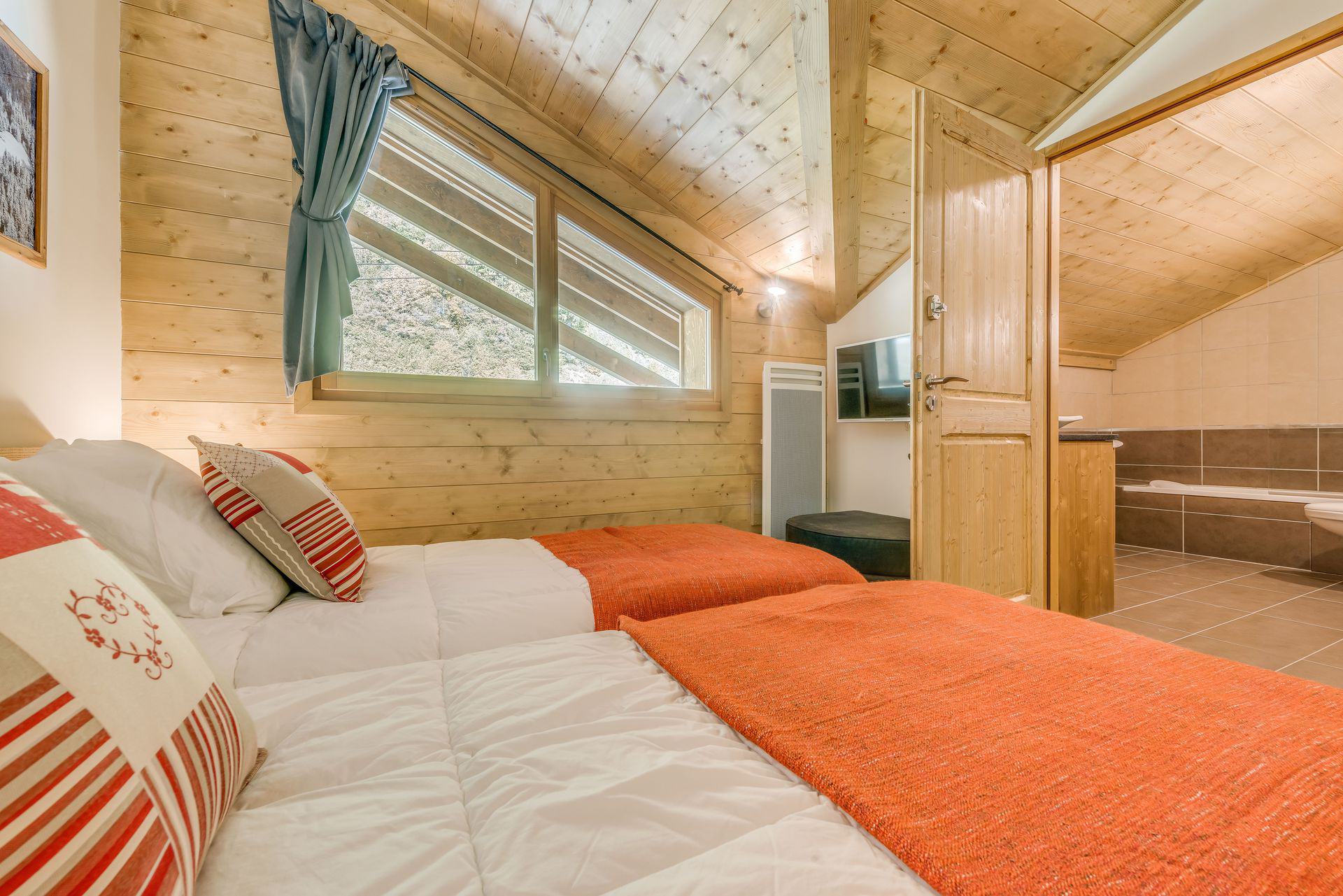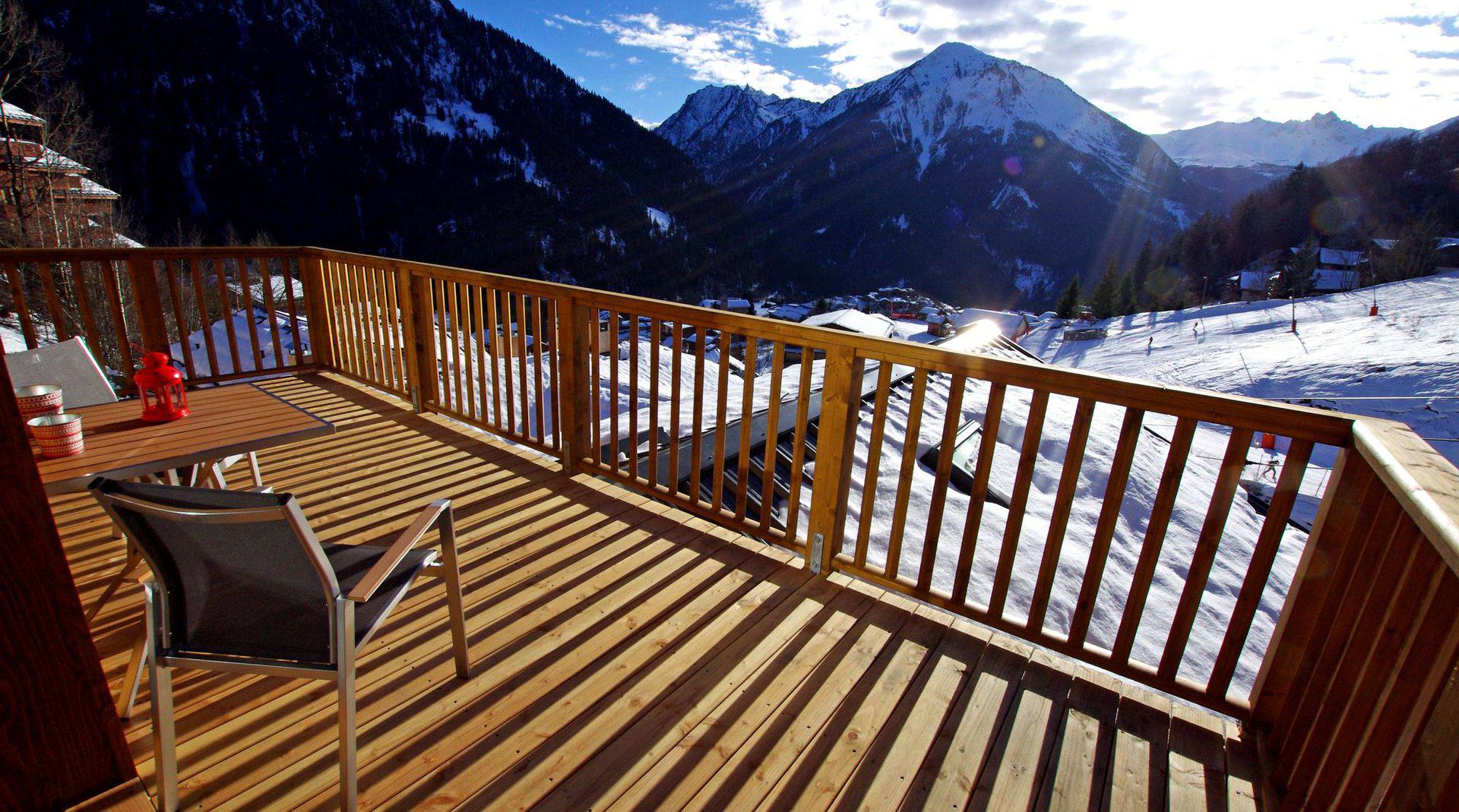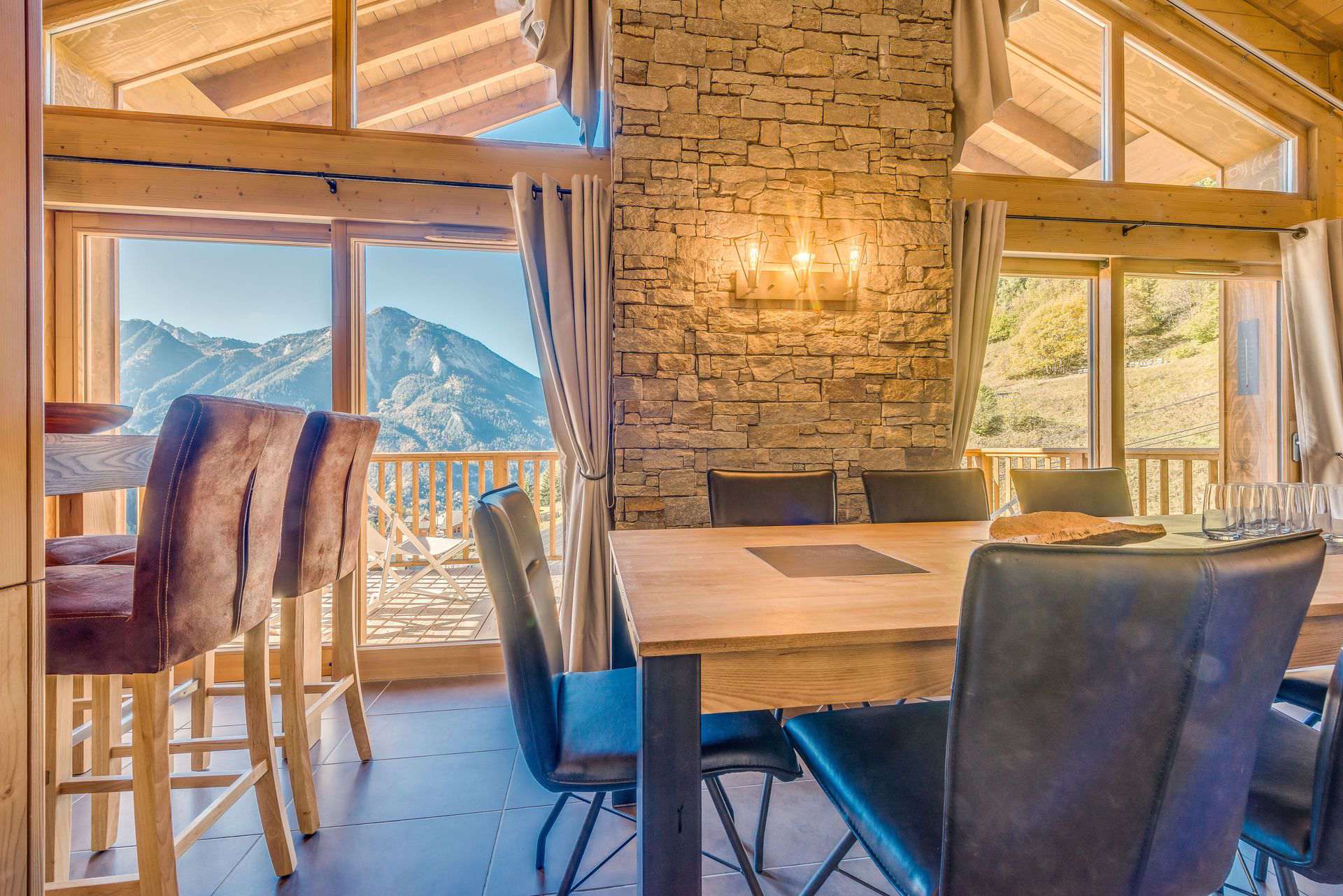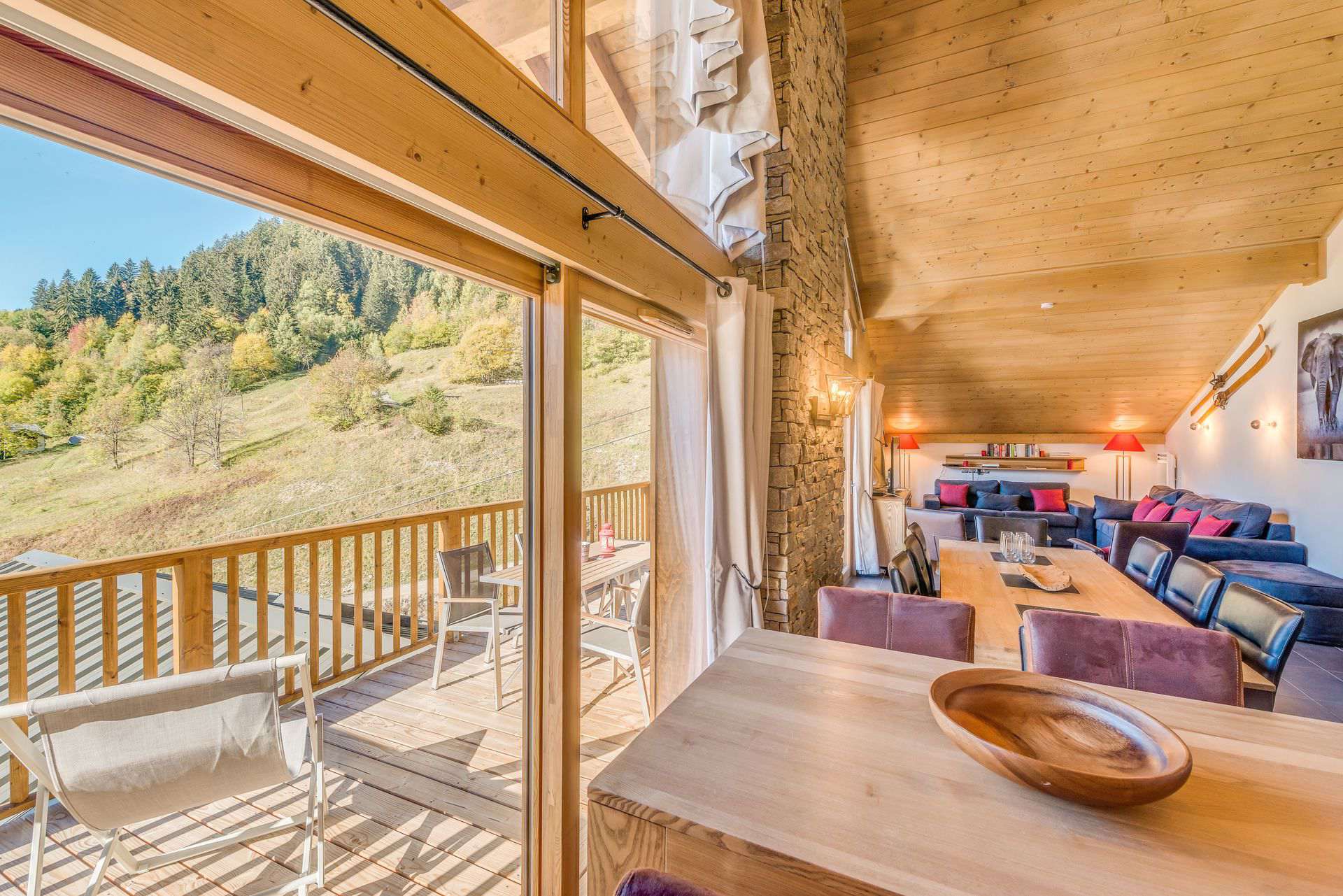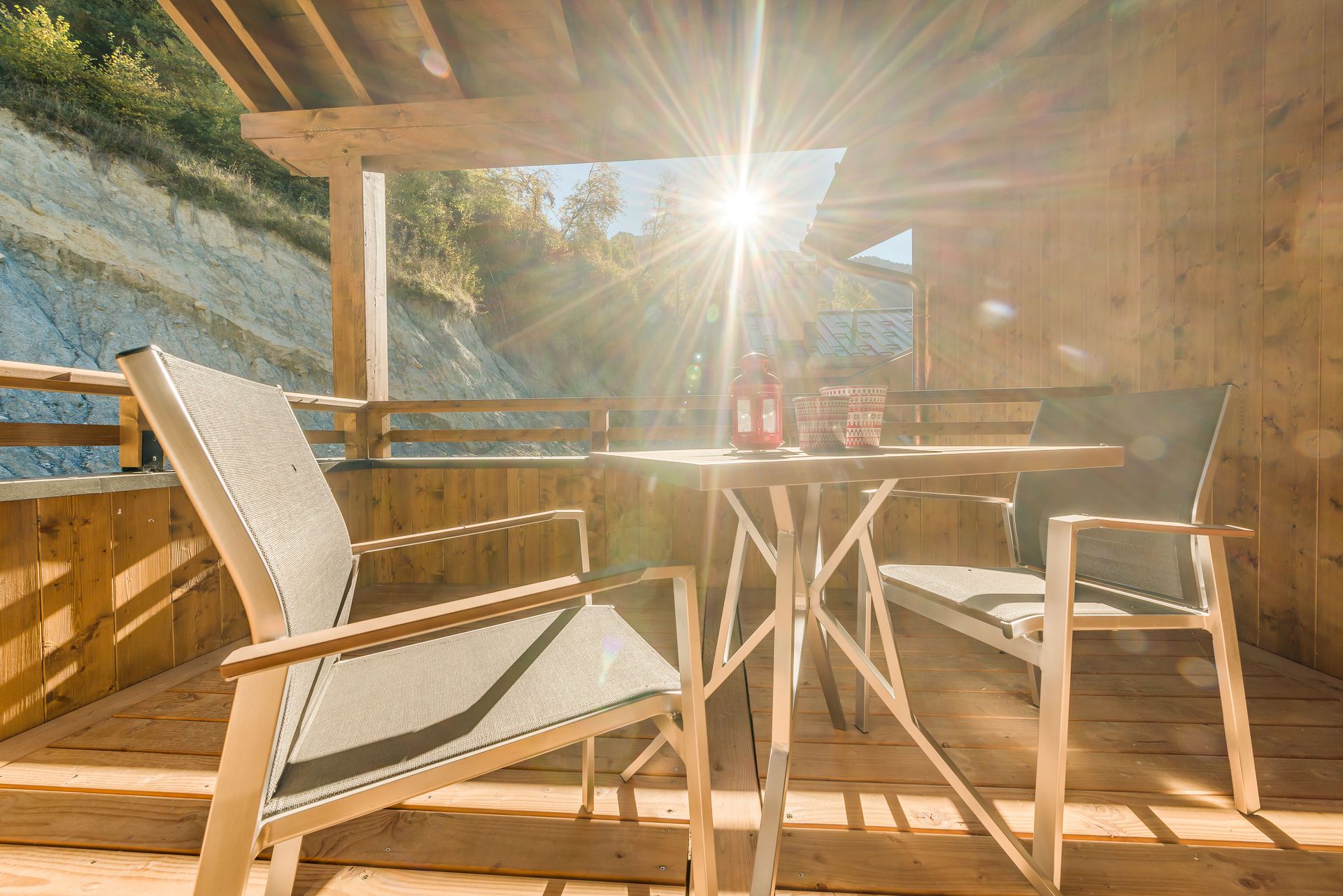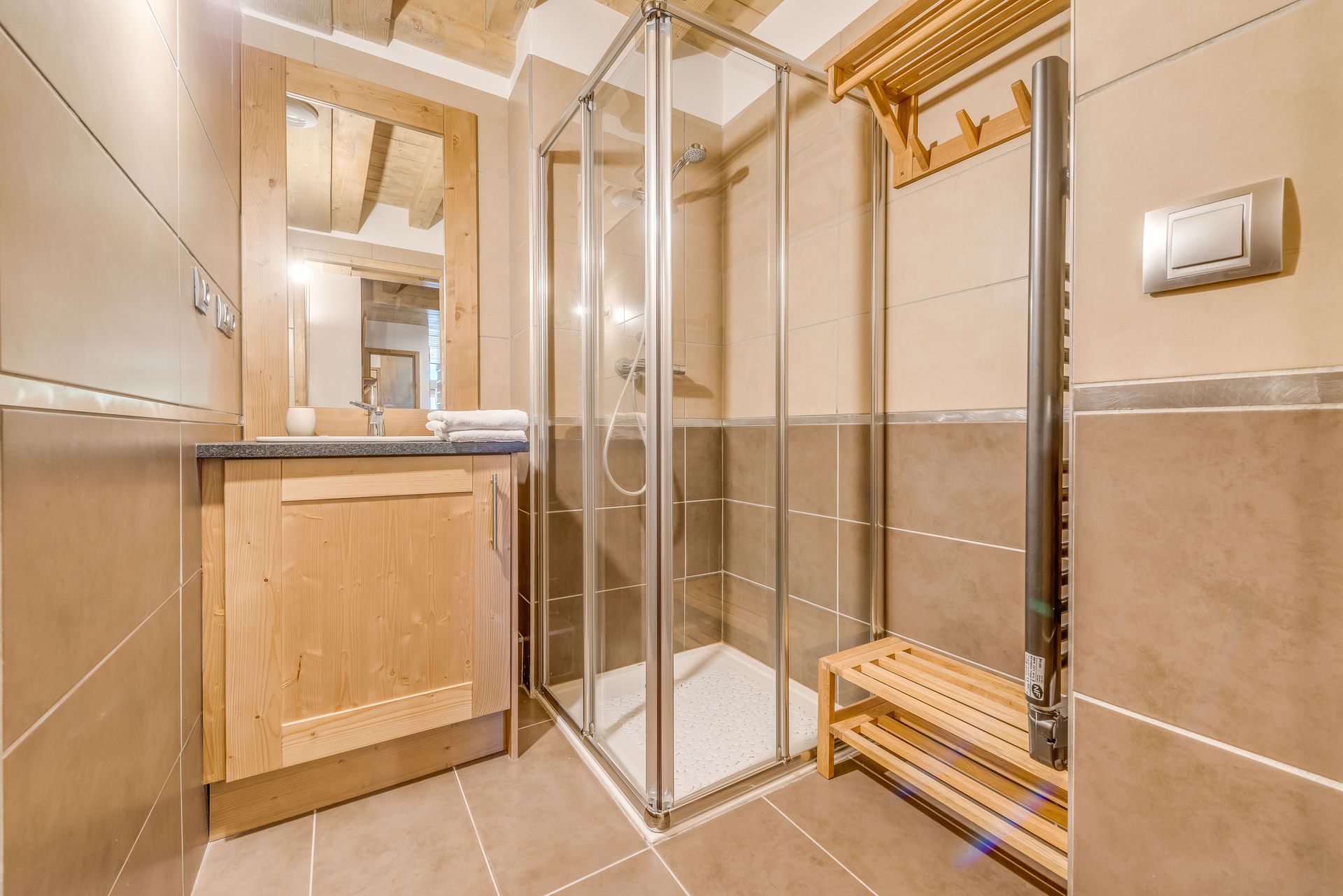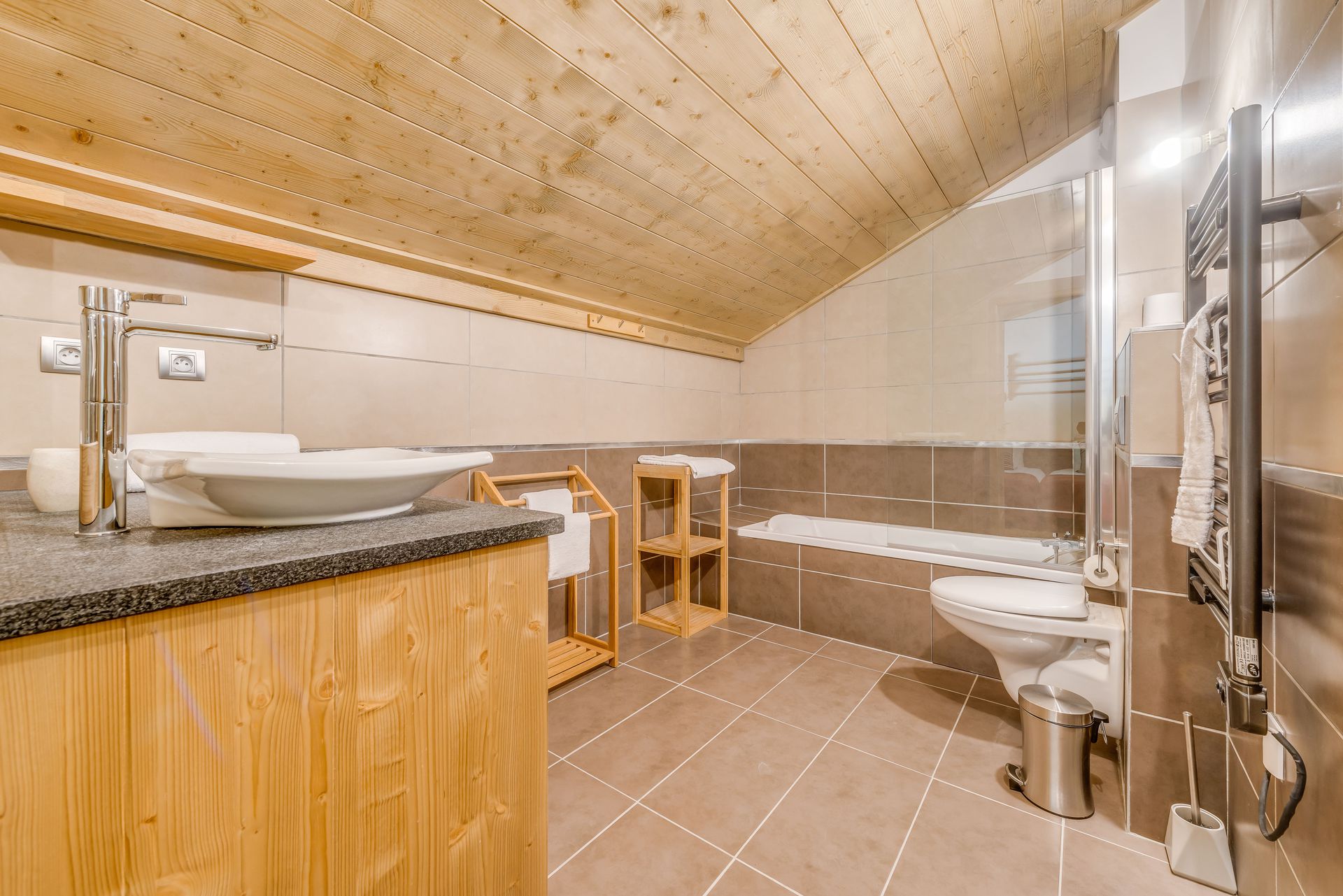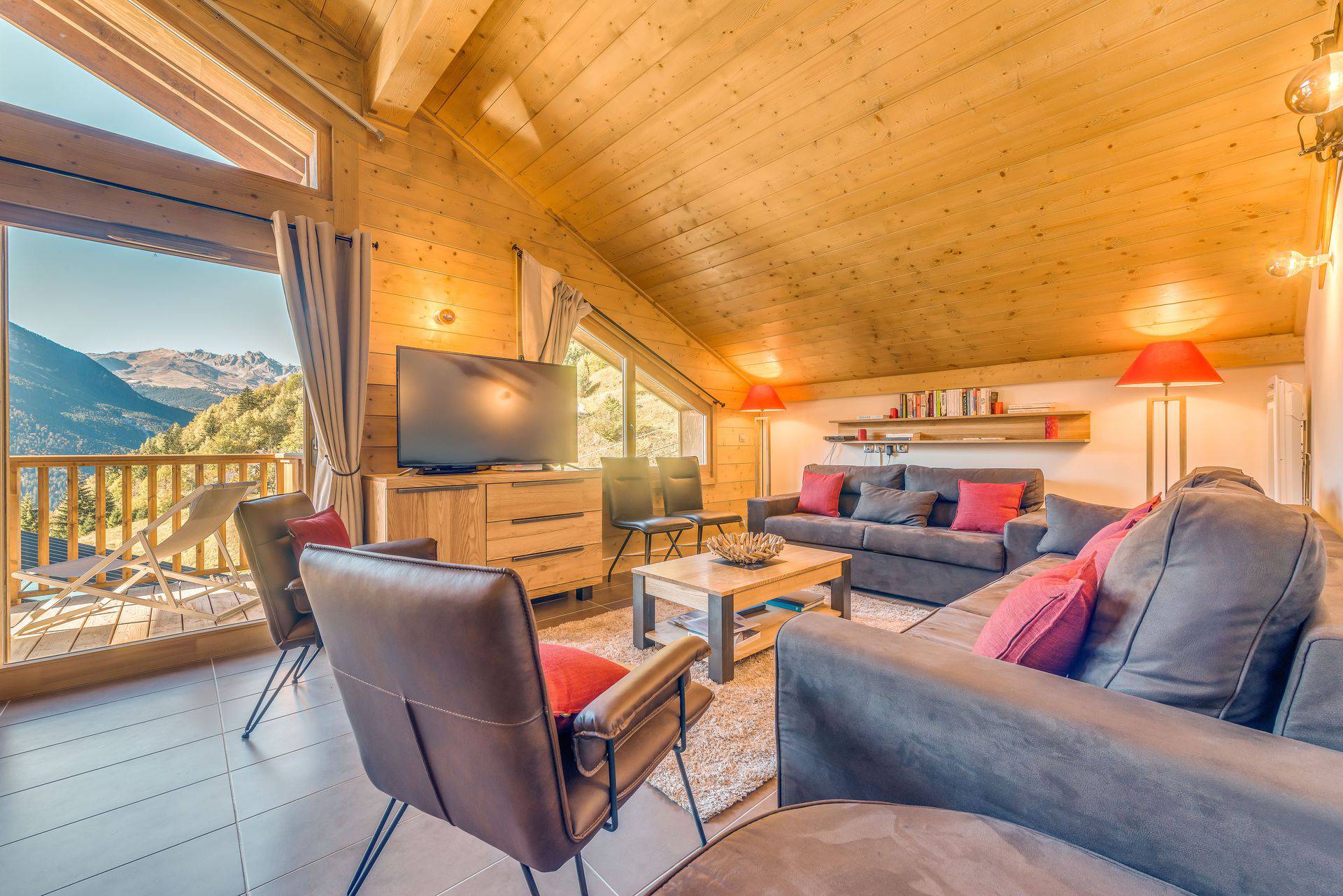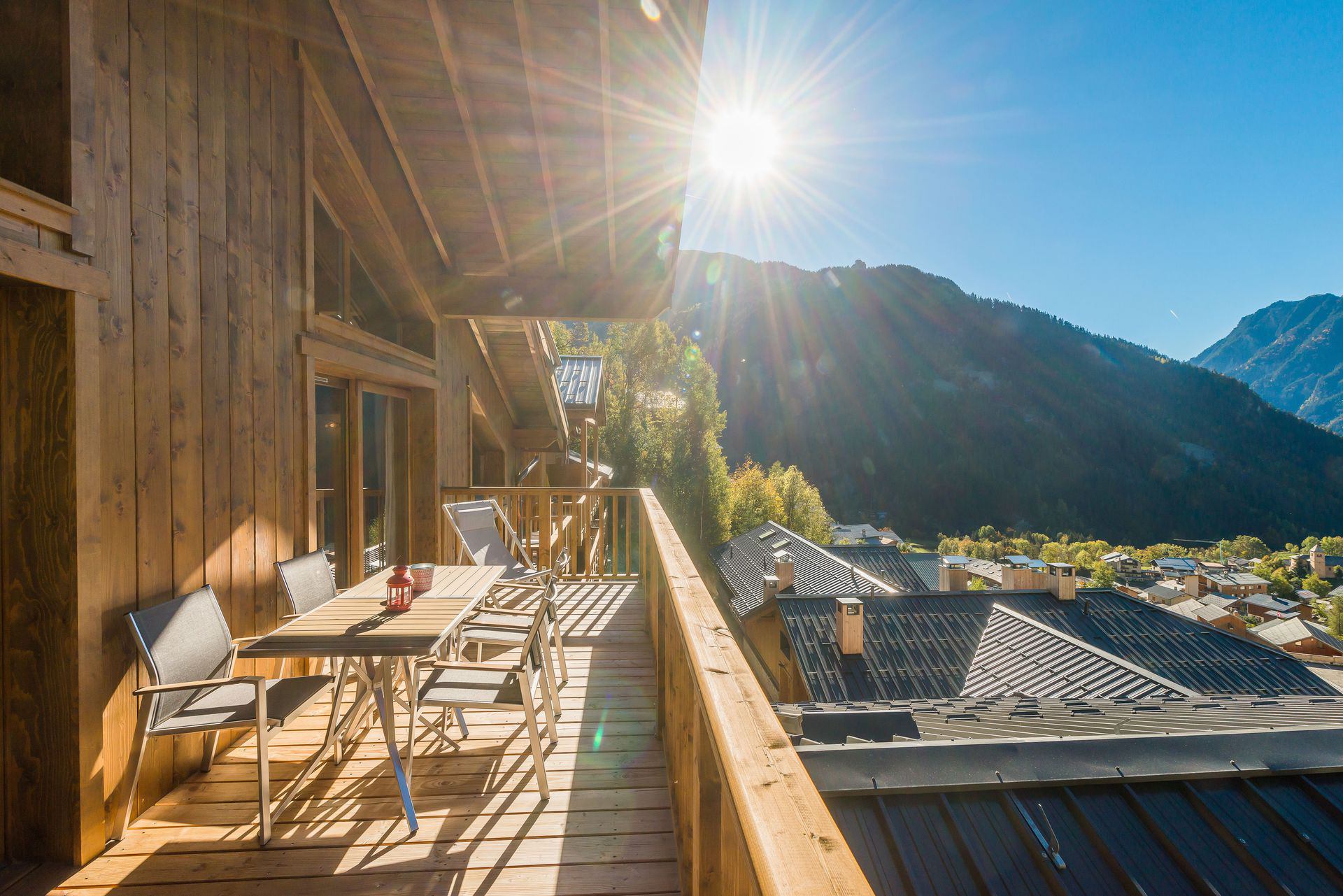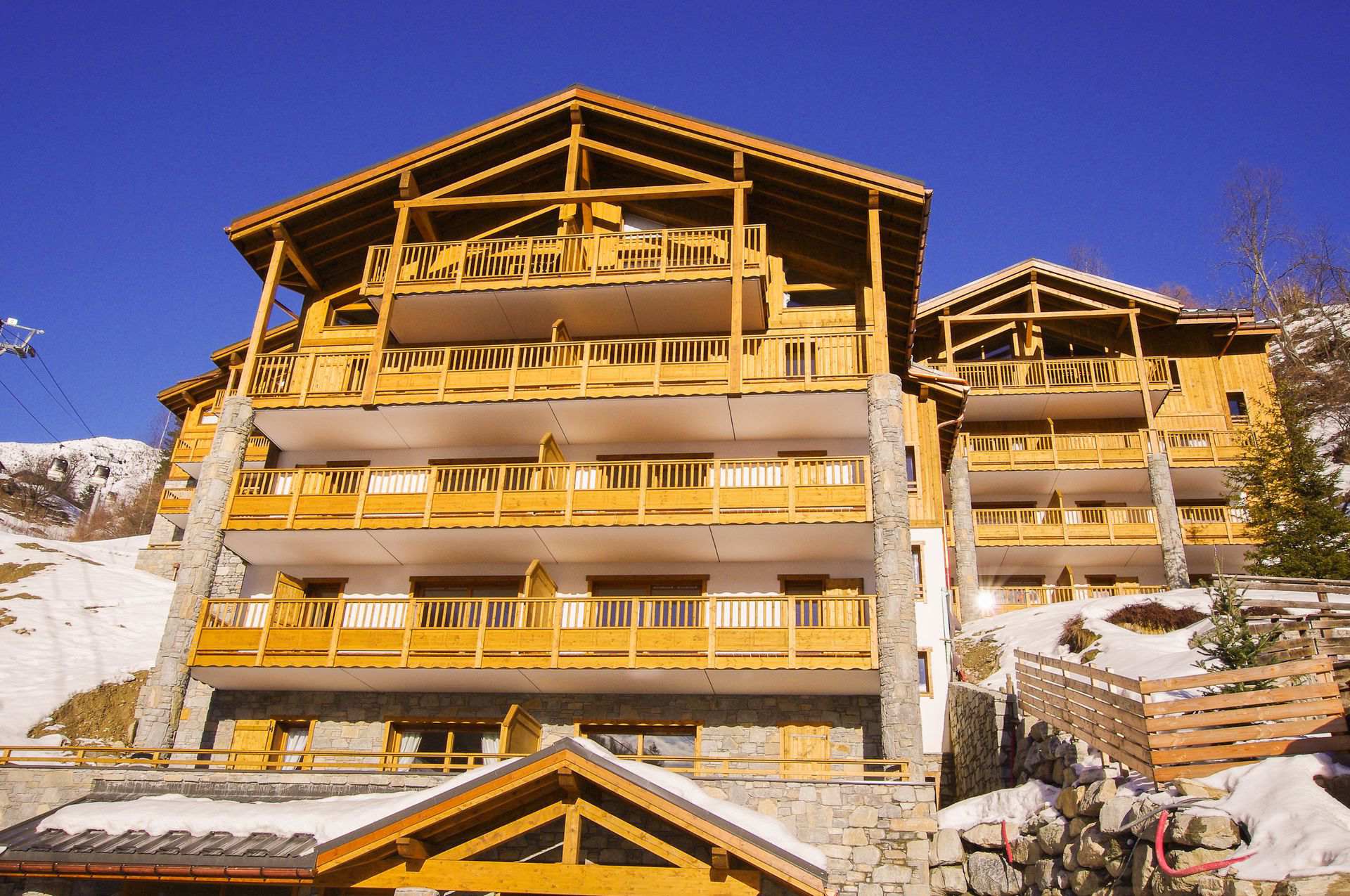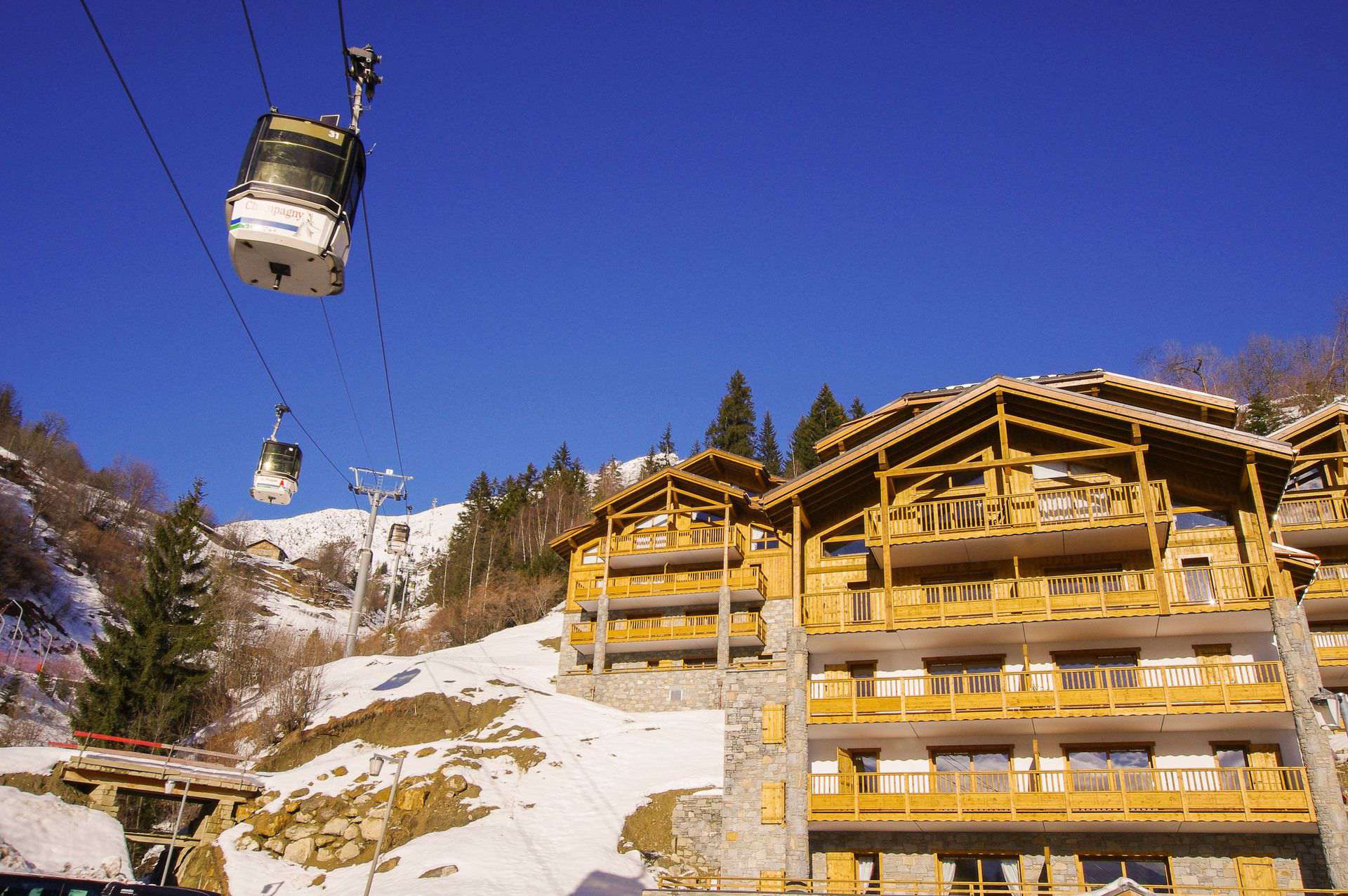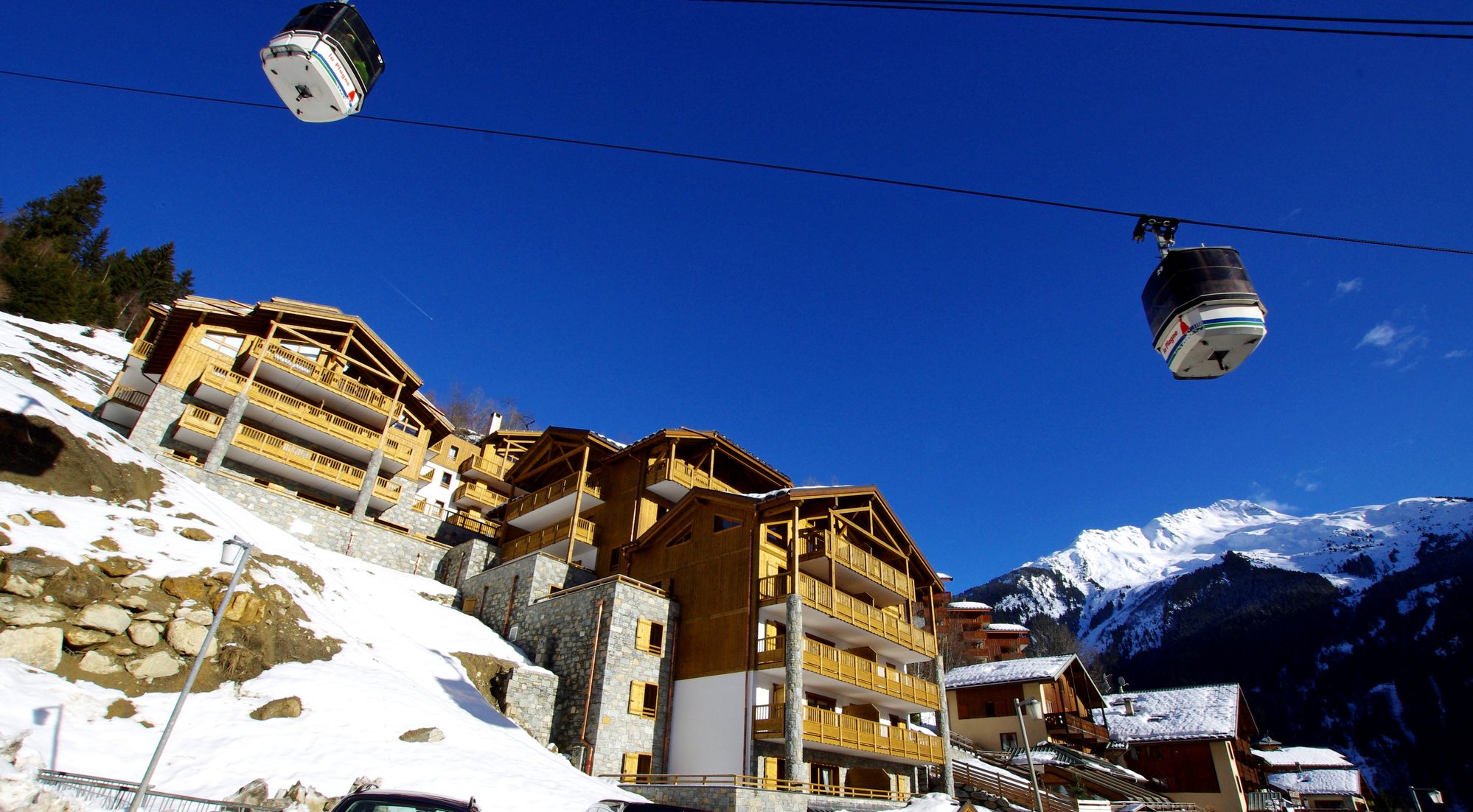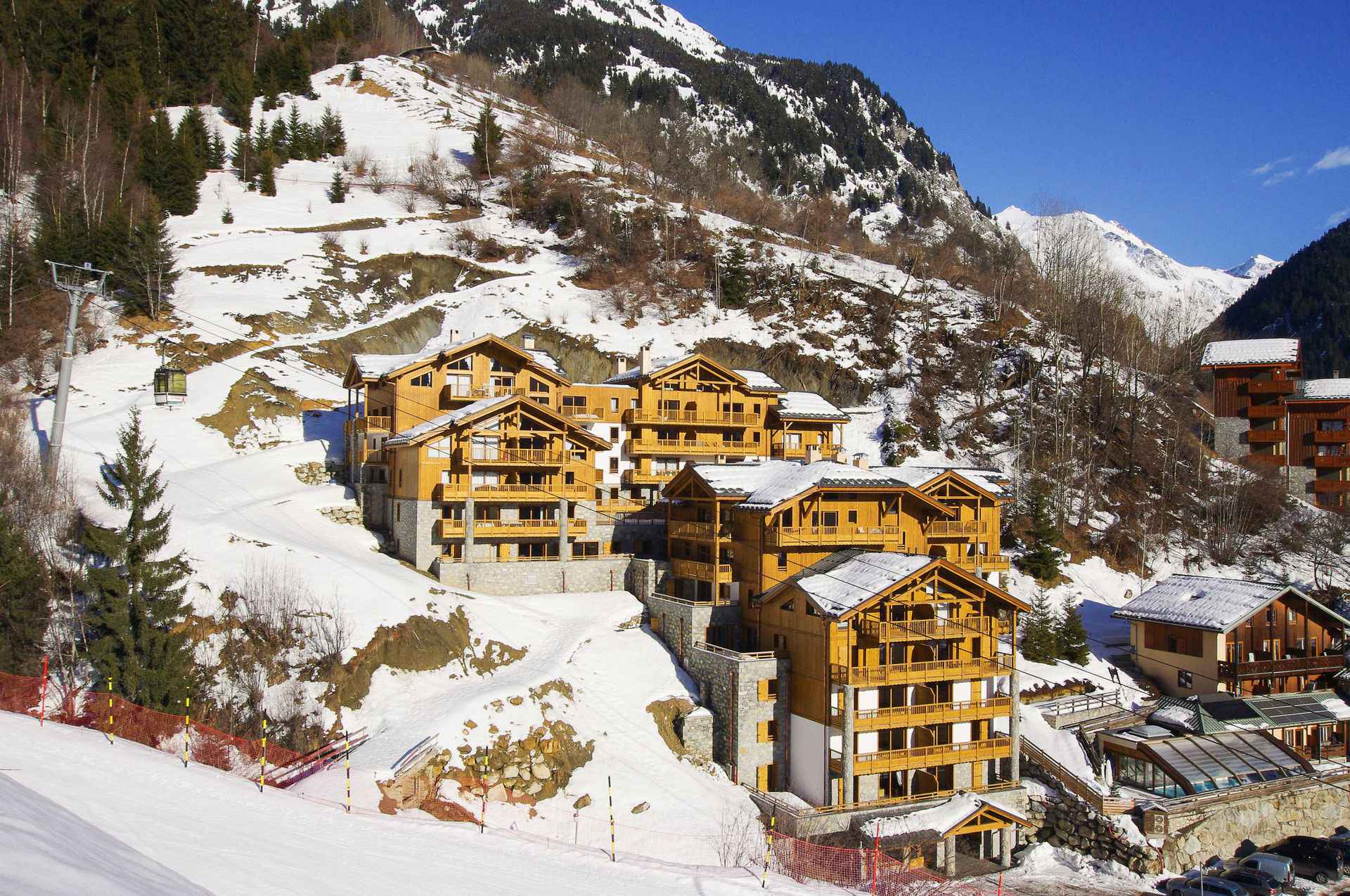 accommodation description
LES BALCONS ETOILES B25 - 5 rooms 10/11 persons - 96.40 m2

The apartment is composed of a living room with south-west facing balcony, a fully equipped kitchen with dining area, 3 double bedrooms, a triple bedroom under the roof, 1 bathroom with toilet, 1 showeroom and sep. toilet.
- Living room: dining area with table, 10 chairs, dining table with high chairs, sofa bed (160x200 bed), armchairs, coffee table, storage cupboard, flat screen, DVD player, large picture window overlooking a furnished balcony
- Fully equipped kitchen: fridge with freezer, combined oven, dishwasher, vitroceramic hotplates, coffee maker, Nespresso machine, kettle, toaster
- Bedroom 1: double bed (180x200), bedside tables, bedside lamps, cupboard with shelves, flat screen TV
- Bedroom 2: 2 single beds (90x200), bedside tables, bedside lamps, cupboard with shelves, large furnished balcony
- Bedroom 3: 2 single beds (90x200), bedside tables, bedside lamps, cupboard with shelves
- Bathroom with WC: bath, washbasin, towel dryer, hairdryer, WC
- Bathroom: shower, vanity unit, towel dryer, hair dryer- Separate toilet
Upstairs :
- Bedroom 4: 2 bunk beds (90x200), 1 single bed (90x200), bedside tables, bedside lamps, storage

Additional description :
- Linen included (sheets and towels)
- WIRELESS
- Washer dryer
- End of stay cleaning included
- Ski locker with shoe dryer
- Free outdoor public parking at 20m from the residence
- On request: cot and baby chair
Characteristic
- Balcony / Terrace
- Dishwasher
- Lift
- Microwave oven
- Pets not allowed
- Ski locker
- Ski-in ski-out
- South
- Television
- WIFI connection
- Washer

Information
- Resort: Champagny en Vanoise
- Village: CHAMPAGNY
- Property reference: BEB25
- Type of rental: 5 rooms (4 bedrooms)
- Capacity: 10 People
- Comfort: Premium Blacons Étoilés
Address

CHAMPAGNY
73350
Coordinates
45.45683823894483, 6.693377494812012
District
Champagny - Les Hauts du Crey
Real Estate Agency
BALCONS ETOILES
RUE DES HAUTS DU CREY
73350 CHAMPAGNY EN VANOISE
+33 04 79 07 58 26
FORMALITIES
TRANSPORT
By plane or on foot, it's up to you!
In the case of offers with transport, you can select your route and timetable in the second part of the booking.
After clicking on "I book", you will access the "Quotation" page which lists the proposed routes. The cheapest transport is selected by default. Click on "Show more results" to display all the routes available for your search. Different criteria will allow you to filter your search and find the route that best suits your needs.
The departure or arrival airport can be off-centre (so-called secondary airport) in relation to the city depending on the airline chosen. We invite you to click on the "information" pictogram to know the precise names of your airports and avoid any unpleasant surprises during your trip.
For any reservation of accommodation only with transfer (included or optional), it is important to fill in your round-trip flight numbers/schedule as a comment on the reservation. If you have not yet booked your trips, you will need to contact the hotel to keep them informed of your arrival.
Note: in the case of business-class packages, pre-routing can be carried out in economy class.
TRAVEL DOCUMENTS
How do I know if my stay is confirmed?
Once the reservation has been made, you will receive an electronic confirmation to the e-mail address you have provided us. Thereafter, you will receive your transport document until 48 hours after your reservation (provided that the file is closed).
To remember: a voucher will be sent to you at the latest 8 days before your departure date. It is to be presented upon arrival at the hotel.
BAGAGES (for all bookings with flights)
Are they included in the indicated price?
If baggage is not included and the airline allows it, it will be offered as an option in the "Choose your baggage" step and, in this case, an additional charge will be payable.
Is the posted flight price guaranteed?
As part of the offer with flights, you will be able to choose the flight corresponding to your needs in complete freedom with real-time changes in air fares. The prices indicated are therefore subject to adjustment at the "Quotation" stage of your booking. The prices indicated are unit prices (per person) based on a double room.
Hold baggage
The hold baggage policy of each airline will be visible when you choose your flight thanks to a pictogram. If checked baggage is not included, it will be offered as an option if the airline allows it.
Be careful, with some airlines, and in particular WOW Air and, from November 1st, Ryanair, cabin baggage is not included.
FORMALITÉS ADMINISTRATIVES Pour les ressortissants français
Adultes : Carte nationale d'identité (pour les destinations de l'Union Européenne) ou passeport en cours de validité (pour les destinations hors Union Européenne) ainsi que tout autre(s) document(s) (visa / autorisation ESTA…) requis et conformes aux formalités d'entrée du pays de transit et/ou destination.

Enfants / Bébés : Tout mineur qui voyage avec l'un de ses parents (ou une personne titulaire de l'autorité parentale) doit posséder une carte nationale d'identité (pour les destinations de l'Union Européenne) ou un passeport en cours de validité (pour les destinations hors Union Européenne). Dans le cas de la carte nationale d'identité, les autorités douanières peuvent exiger un document prouvant que l'accompagnant est bien le parent (acte de naissance par exemple).

Attention : Il vous est fortement recommandé de privilégier l'utilisation d'un passeport valide à une carte nationale d'identité portant une date de fin de validité dépassée, même si elle est considérée par les autorités françaises comme étant toujours en cours de validité.

Il appartient au voyageur, ressortissant de nationalité française, de vérifier que les documents, notamment administratifs et sanitaires, requis en vue de l'accomplissement du voyage, sont en conformité avec les informations fournies par MisterFly. Il est vivement recommandé au client de vérifier toutes les informations auprès des autorités concernées. MisterFly ne pourra, en aucun cas, être tenu pour responsable des conséquences de l'inobservation par le client des règlements policiers, douaniers ou sanitaires, préalablement et au cours du voyage. Un client qui ne pourrait pas embarquer sur un vol, faute de présenter les documents requis ne pourrait prétendre à aucun remboursement.

Pour plus d'informations, vous pouvez consulter le site du ministère des affaires étrangères :

http://www.diplomatie.gouv.fr/fr/conseils-aux-voyageurs/conseils-par-pays/
Conditions tarifaires
Conditions tarifaires desc
MODALITÉS DE PAIEMENT
Le paiement peut s'effectuer en CB classique, en VISA ou en MasterCard. Les E-carte bancaires sont également acceptées.
Je réserve maintenant, dois-je tout payer aujourd'hui ?
Au moment de la commande, pour les départs à plus de 35 jours, vous pourrez opter pour un paiement en acompte de 50% du montant du voyage. Le solde sera prélevé automatiquement 30 jours avant la date de départ de votre voyage. À noter que si la réservation s'effectue à moins de 35 jours du départ, le paiement total sera exigé.

Vous aurez également la possibilité de choisir le paiement 4 fois.

FINANCEMENT CB EN 4 FOIS AVEC FRAIS
Qu'est-ce que le paiement en 4 fois par carte bancaire ?
Cette formule de demande de crédit en ligne vous permet de payer votre séjour avec transport en 4 mensualités.

Cette solution de paiement est réservée aux porteurs d'une carte bancaire valide : Visa ou Mastercard. Ce mode de paiement est réservé aux particuliers (personnes physiques majeures) résidant en France.
Il n'y a aucune restriction de date de réservation pour en bénéficier.
Ce type de paiement n'est pas proposé ni éligible pour les commandes inférieures à 100€ et supérieures à 4000€ TTC.

Important : la date d'expiration de votre carte ne doit pas intervenir dans les 4 mois qui suivent la commande. Elle doit avoir une date d'expiration supérieure à la date du 4ème paiement. A défaut le paiement ne pourra aboutir.
Ce paiement est proposé par Banque Casino

Voir les conditions ici.
Comment fonctionne le paiement en 4 fois par carte bancaire?

Il s'agit d'un paiement fractionné en 4 mensualités sur lesquelles sont lissés des frais d'environ 2.37 % (dégressif en fonction du montant de la commande - voir conditions).

Vous n'aurez aucune pièce justificative à transmettre et la procédure de demande d'acceptation du crédit se fait automatiquement en ligne.

Le montant des frais et l'échéancier sont affichés en ligne avant la validation du paiement CB 4X. Banque Casino vous adresse ensuite par mail votre échéancier de paiement, ainsi qu'un rappel mensuel avant chaque prélèvement.
Pourquoi mon financement n'a pas été accepté?

Le financement CB 4X est géré intégralement par Banque Casino qui se réserve un droit de refus selon des règles qui lui sont propres, liées au secret bancaire. Ce type de service est totalement similaire à une demande de crédit en ligne, les règles d'acception sont par conséquent toutes aussi rigoureuses, et sont liées à votre taux potentiel d'endettement.

Vous pouvez être solvable, ne pas avoir de limite de plafond bancaire et voir votre demande de financement 4X refusée. Les algorithmes de Banque Casino, calculés à partir du croisement des diverses coordonnées que vous avez saisies, vont ensuite se confondre à votre historique bancaire et déterminer le degré de risque d'acceptation du financement. La moindre anomalie décelée dans un numéro de téléphone ou dans la conformité de l'adéquation Adresse/Code postal/Ville/Pays/Département de naissance/Date de naissance, peut engendrer un motif de refus. La plagne n'a jamais connaissance des motifs de refus.

En cas de refus en ligne - et nous en sommes désolés pour vous- optez pour le paiement CB en 1 X, car même si vous contactez MISTERFLY par téléphone, le paiement CB 4X ne pourra pas vous etre proposé, ce financement étant uniquement géré par Banque Casino.
We are looking for your trip
please wait